Hand drawn and Pictorial Envelopes
Delightful hand drawing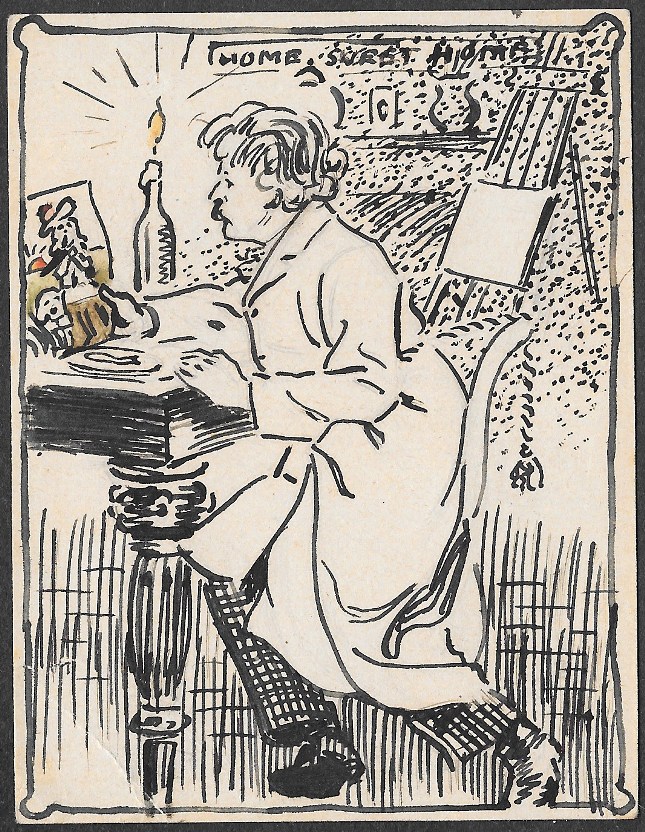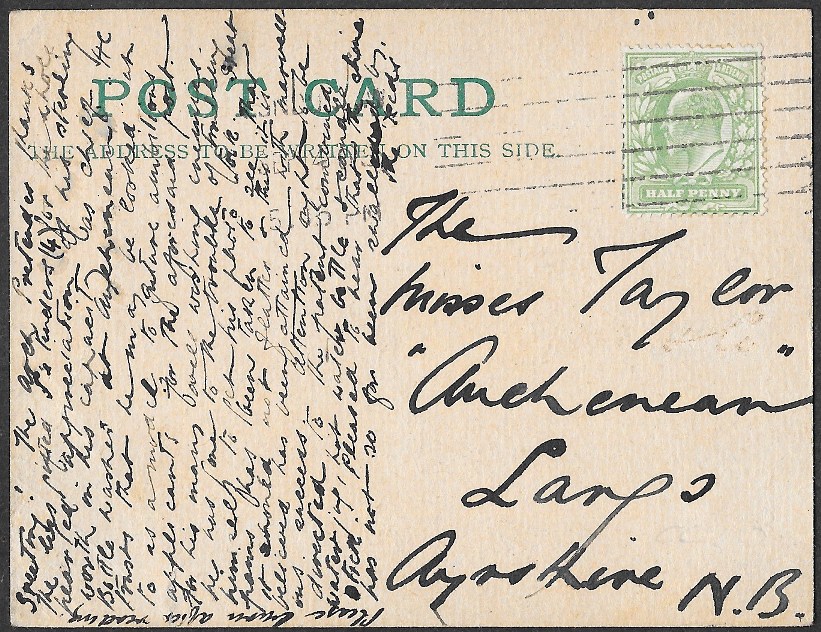 153048.
A very fine postcard from London, September 14th 1903?.
Addressed to The Misses Taylor, 'Auchenean', Largs.
On the reverse is a well drawn image, possibly of the sender,
looking at a drawing of a Scottish scene: is he homesick for Scotland?
In the background is an artists' easel.
The drawing is clearly executed by a very competent artist.
This is evidenced by the small coloured areas, but especially the candle flame,
which bring the picture to life.
The message has some very personal meaning as at the bottom the writer adds:
'Please burn after reading'.
We are pleased that the Misses Taylor did not carry out this instruction
and so a fine Edwardian hand drawn sketch has survived.
A delightful item.
Price: £55.00
Drawings by Sir George Cathcart when a very young man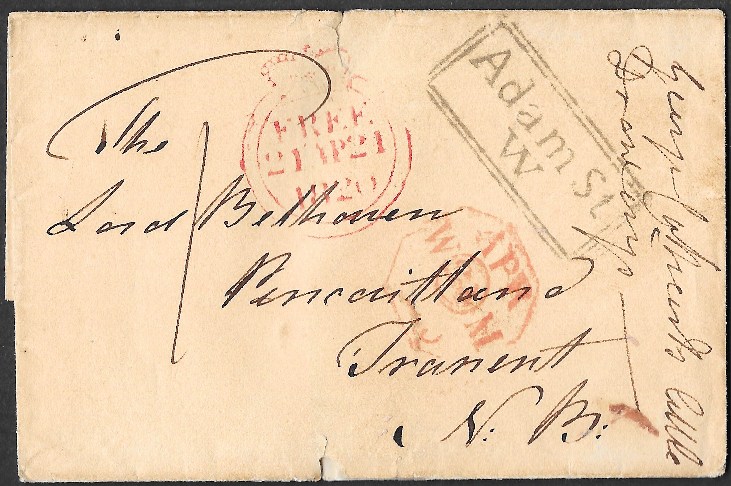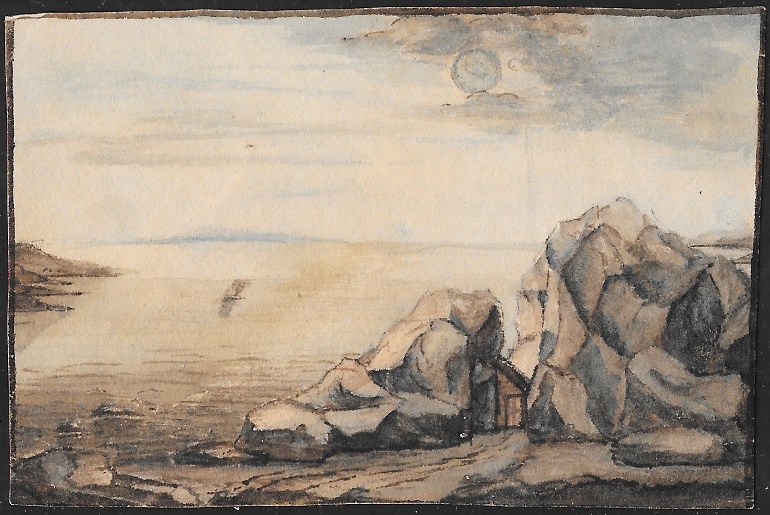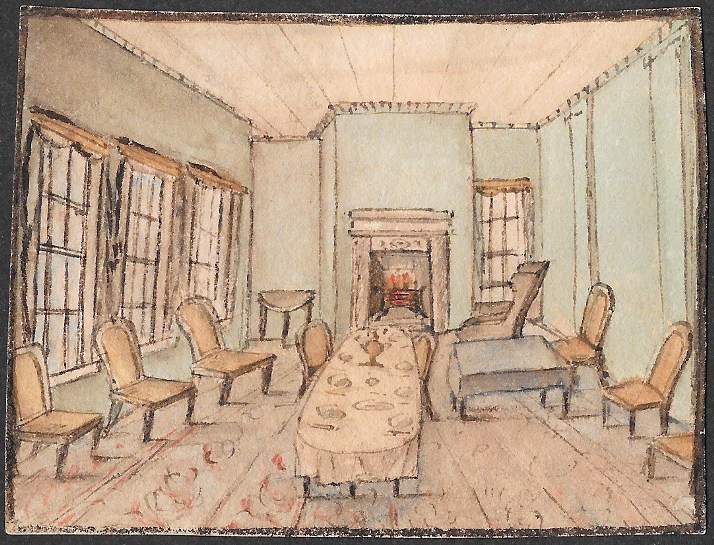 152968. A wrapper from London to Pencaitland, Tranent, North Britain.
On the front is a very fine double framed Adam St W, General Post Receiving House
and a Crowned Free date stamp for April 21st 1820.
There are no postal markings on the reverse but there is a full black wax seal with a Coat of Arms.
The wrapper is addressed to Lord Belhaven.
Information about him, and the family name, is on the internet.
On the front the right side of the wrapper is written in a contemporary hand: 'George Cathcart's little Drawings'.
On the inside of the wrapper are two small coloured drawings: one dated August 29th 1814 the other September 2nd 1814.
Sir George Cathcart , son of William Cathcart, the 1st Earl Cathcart, had a distinguished Military career.
He was commissioned into the Life Guards in 1810 at the age of 16/17.
George Cathcart was present at the battles between the Russian and the French army in 1813 and
he followed the Russian army through Europe, entering Paris in March 1814.
When Napoleon returned in 1815, Cathcart served as aide-de-camp to the Duke of Wellington
and was present at the battles of Quatre Bras and Waterloo.
The development of his career is described in detail on the internet and there is a portrait of him when a General.
He was shot and killed at the Battle of Inkerman when leading the 1st Brigade in 1854.
The hand drawn and coloured 'George Cathcart's little Drawings', are dated late August and early September 1814.
He would probably have been back in Great Britain from Paris by then
and perhaps created them when he was back home or at a holiday location.
The writing at the front right may be by Lord Belhaven: a note reminding him of the drawings inside the wrapper.
The wrapper would have been addressed by Sir George Cathcart.
An intriguing item that would make a very interesting display page(s).
A truly remarkable survivor from more than 200 years ago.
A rarity the like of which we have not previously seen.
Price: £145.00
NB: There appears to be a m/s '1' in black despite the Free Frank:
perhaps because the name of the sender was not written at the bottom left corner?
Unusual and early example of a coded message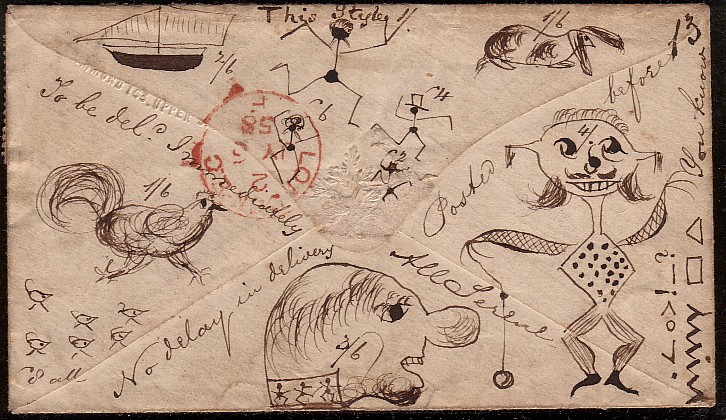 263.
1d SG40?: Brighton s/ways duplex, July 6 1858, envelope to London
heavily illustrated by hand on reverse.
Unusual drawings and possibly in a coded series of messages and images.
Intriguing.
£85.00 SOLD
NB: Please let me know if you are able to decipher the message.
Hand drawn image of Southport Beach in 1862?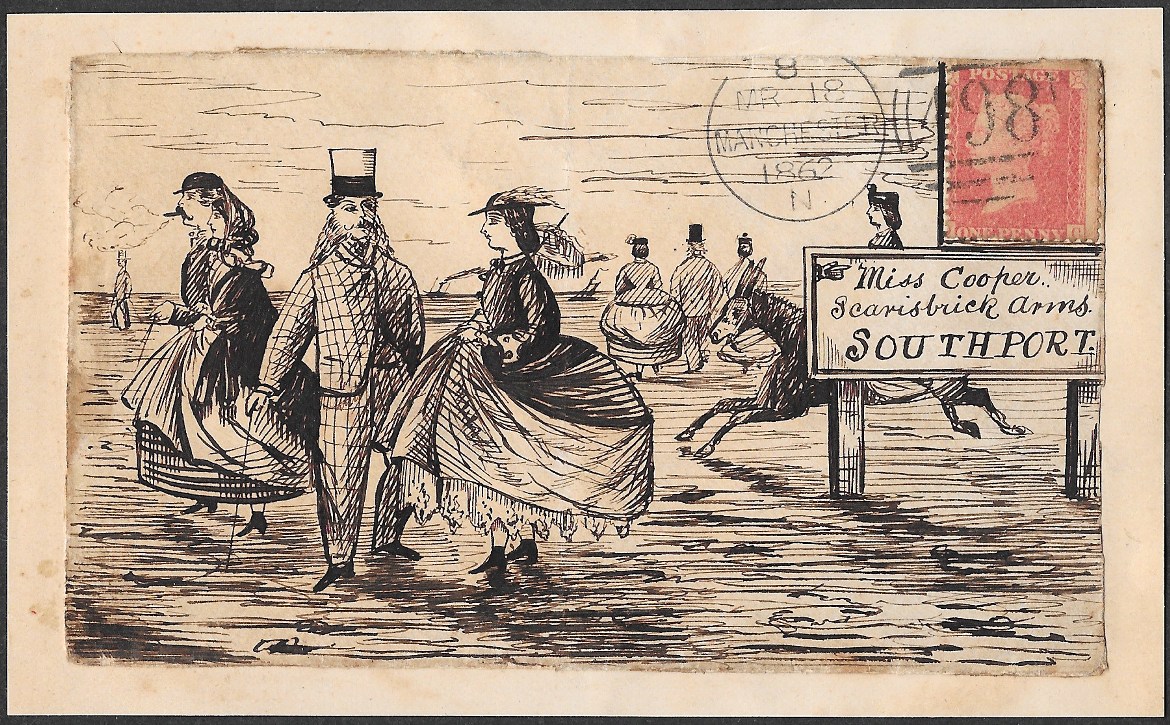 152598.
Front mounted on card, from Manchester to Southport, March 18th 1862, the 1d is defective at the top.
A superb pen and ink drawing of a beach scene: possibly as the sender remembers it.
The dress of the period is well observed and the ladies showing their ankles was unusual for the times:
perhaps acceptable when on the beach?
A superb and rare item which would make a fine display page.
Price: £175.00
NB: this was sent barely three months after Prince Albert had died.
Pen and ink drawing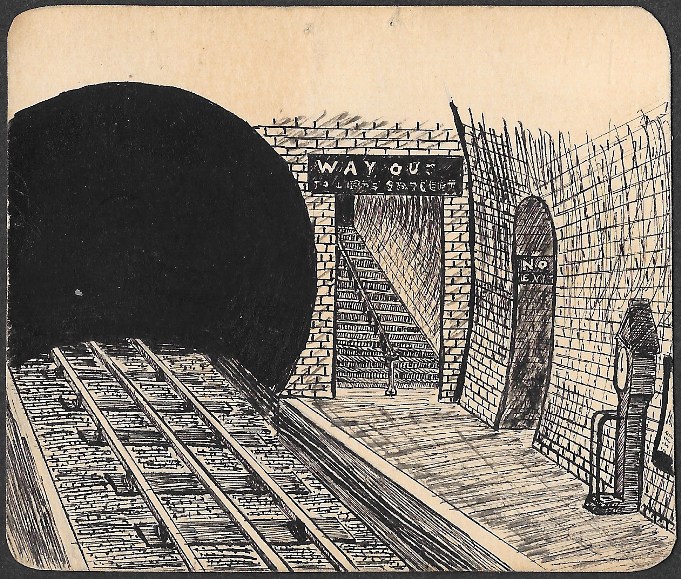 142534.
Very fine pen and ink drawing, on a thin card, of the end of a platform in the London underground.
Not dated or postally used: perhaps the syle of the weighing machine could help?
Very unusual topic.
Price: £42.50
Sketch from an actor RESTING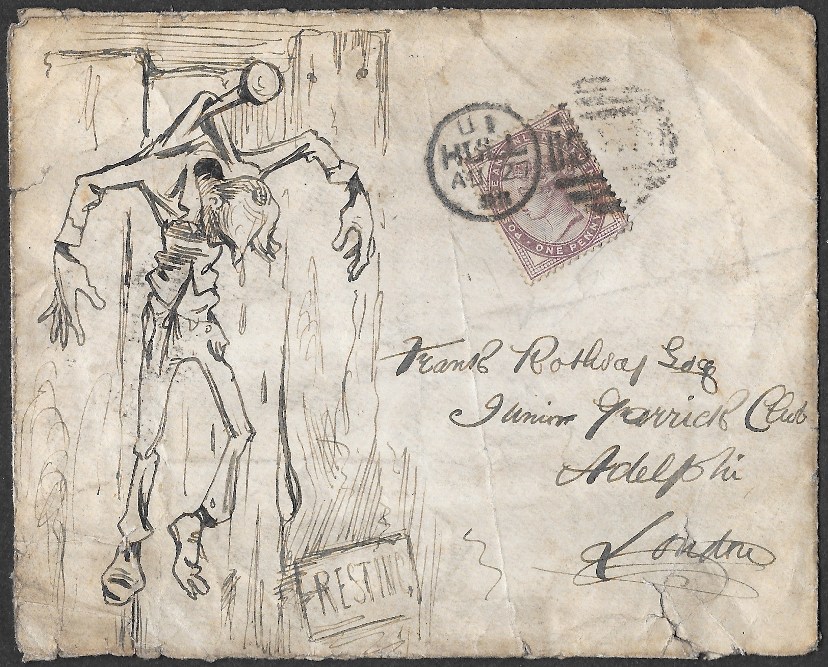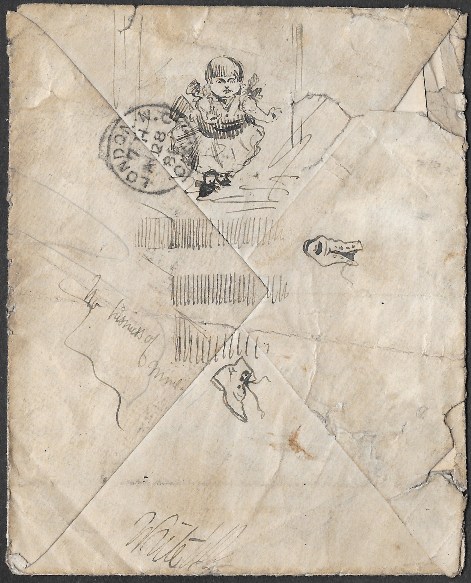 152498.
1d lilac Die 2 on an envelope fro Hull to London, August 27th 1888.
Addressed to the JUNIOR GARRICK CLUB, Adelphi, London.
On the front is a graphic sketch with near the bottom RESTING.
Clearly representing an actor who was not presently employed hence the comment 'RESTING'
and perhaps a reflection of how hard he/she was finding another part.
On the reverse are some smaller hand sketches.
A tired envelope but a very rare example from an actor at a time when
theatres were becoming increasingly popular in London but perhaps not in Hull?
Would make a fascinating display item when enhanced by information from the internet
about the Junior Garrick Club as well as the Garrick Club itself.
A dramatic item.
Price: £120.00
Late usage of Fores Handcoloured Envelope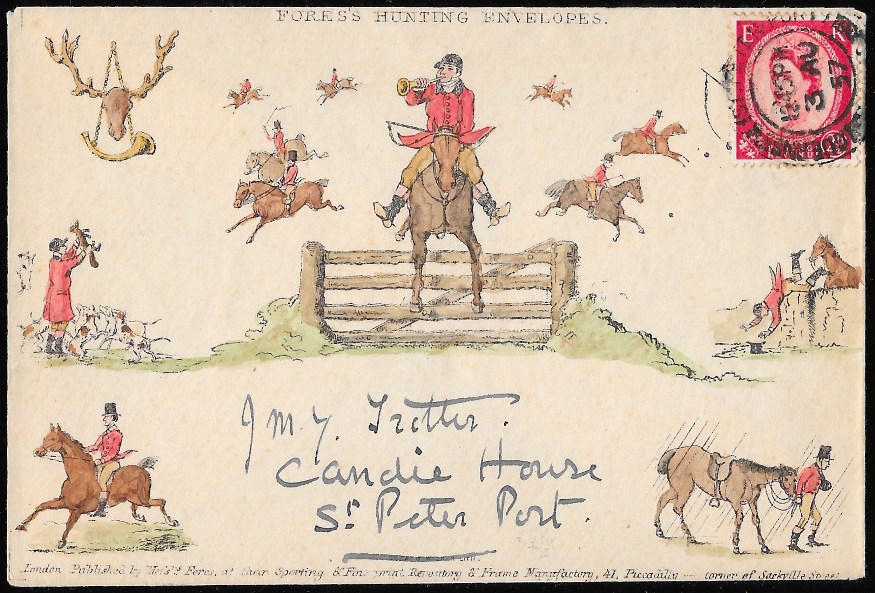 152492.
Fores Hunting Envelope, Number 4: a very fine handcoloured example used within Guernsey, Channel Islands
with a QE2 twopence halfpenny stamp tied by a St Peters Port cds for August 3rd 1957.
Sent philatelically but the LATEST used example of any of this series, printed in 1840, that we have seen.
A very attractive and rare item.
Price: £275.00
1/2d postcard with a rare painting on reverse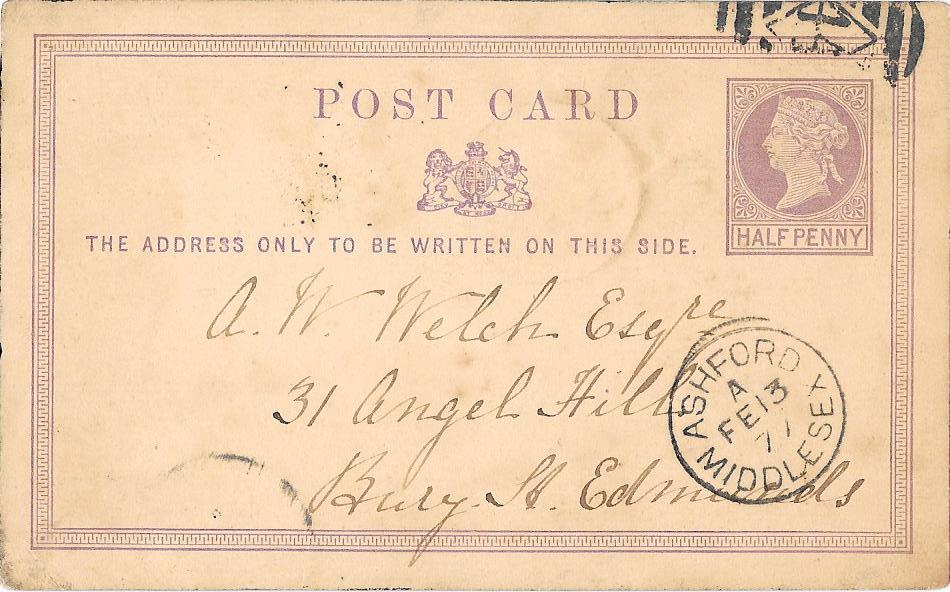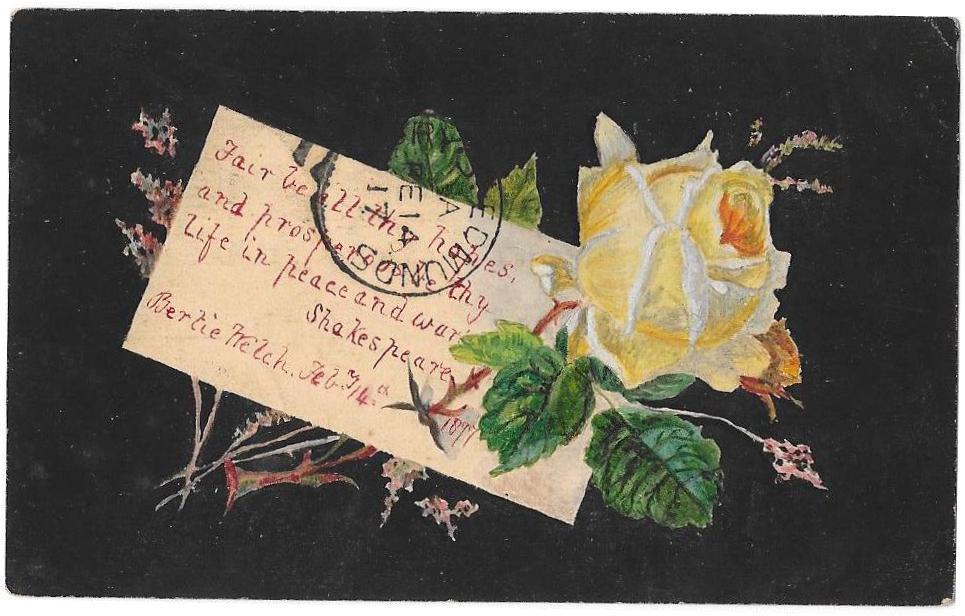 151689. The first type of design of the 1/2d postcard but without the word 'To':
fine example from ASHFORD, February 13th 1877 to Bury St Edmunds.
The London Inland Branch '44', rated scarce by Parmenter, missed cancelling the QV 1/2d postage.
On the reverse is a superb hand painting of a yellow rose with the stem going through a card.
The card has on it the following Shakespearean verse:
'Fair be all thy hopes, and prosperous be thy Life in peace and war', signed 'Bertie Welch Febry 14th 1877'.
The card is addressed to A W Welch Esq.
There is a Bury St Edmunds cds for February 14th 17 instead of Feb 14th 77.
Forty years on from the date of this postcard, the Country was involved in WW1:
a very poignant error of date in view of the Shakespearean verse!
A superb and very rare item - the first painting we have seen on this postcard.
Price: £225.00
NB: the browning on front of the card is far less pronounced than the scan suggests.
The receiving cds had to be applied to part of the painting in order for the date to be seen
in view of the black background.
Hand painted fairground booth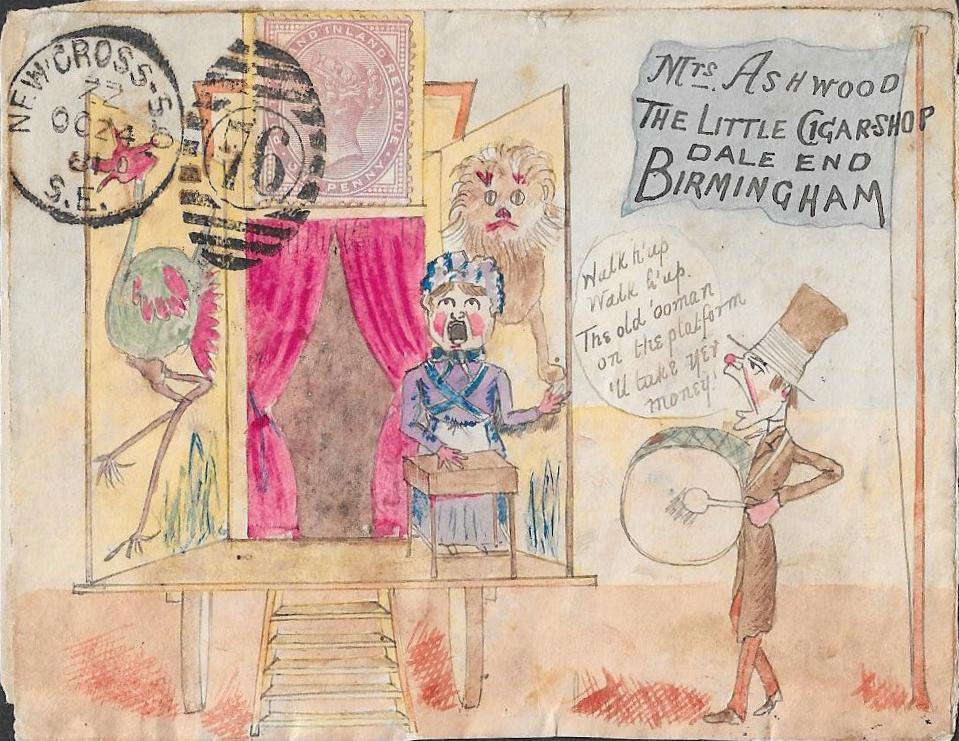 151785. Mounted on card, a front from New cross London to
'The Little Cigar Shop, Dale End, Birmingham', October 24th 1881.
The 1d lilac is SG170, Die 1.
The hand painting of a fairground booth is naive but attractively done with a lot of detail.
The man with the drum is shouting out:
'Walk up Walk up. The old women on the platform will take yer money'.
Delightful item and a rare theme.
Price: £95.00
Hot Air Balloon drawing - a RARE theme.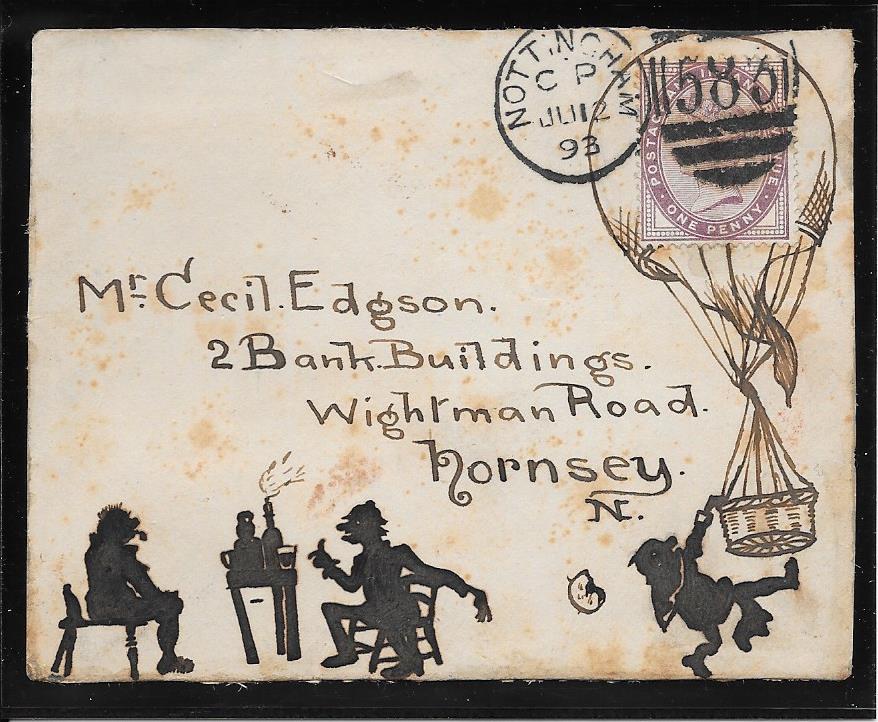 151333. Front mounted on card, handrawn silhouetted figures having a drink and
on the table is a container with gas coming out of the top.
On the right is a drawing of a gas balloon incorporating the 1d lilac with a figure trying to restrain it.
We cannot recall seeing previously a drawing of a hot air balloon on an envelope from this period.
This example dated June 12th 1893.
A rare theme and a fine display item.
Price: £75.00. SOLD
NB: the brown marks are far less evident than the scan suggests.
There are some superb photos on the internet showing how popular ballooning events were with the Victorians.
Printed Decorated Envelope 1879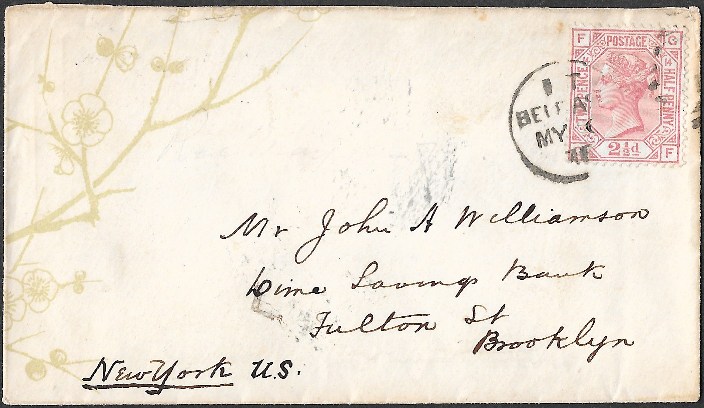 152226. SG141 Plate 14 'GF', fine used:
tied to a small neat envelope from BELFAST to Brooklyn, New York by a partial and lightly struck
Belfast duplex for May 1879 leaving virtually the whole of the Queen's head clear.
The envelope has a delicate printed decoration in lime green of flower motifs on branches/stems.
Very unusual and an early example of a coloured printed illustrated envelope.
Price: £65.00
NB: the item is finer than the scan suggests.
1/2d Postcard with hand drawn message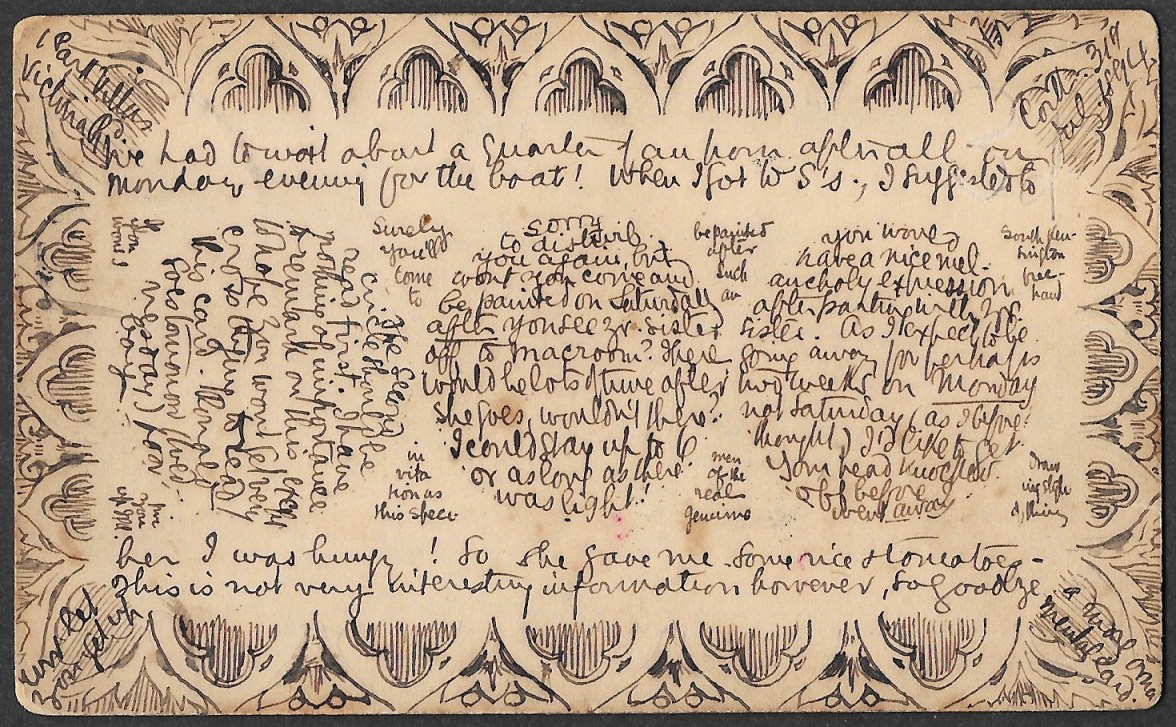 152134. 1/2d postcard from Cork to Passage West, August 1st 1894.
On the reverse is a remarkable hand drawn message the like of which we have never previously seen.
One wonders how long it took the artist to complete this with such accuracy.
Exhibition quality.
Price: £55.00 SOLD
Envelope with printed 'To': 1889
152135. Envelope from Riding Mill, (a small village near Hexham), to East Grinstead, June 21st 1889.
On the front is a BLUE printed Letter 'T' in the form of a woman and with a fancy 'O'.
Some age spots but the first such type of envelope we have seen.
An attractive and unusual item.
Price: £45.00 SOLD
A Front sent on Easter Sunday 1896.
152136. Hand illustrated Front with a 1d lilac tied by a very fine BIRMINGHAM date stamp for
APRIL 5th 1896 which was EASTER SUNDAY.
The drawing is quite involved to fully interpret but the following are clearly Easter themes:
at the end of the bed are Hot Cross Buns;
there are cakes above the bed and one has on it 'Huntly Cakes' - presumably Huntly and Palmer cakes;
there is a dove with a small branch close to the boy in the bed and
there appears to be Easter chickens on the bed too.
Fascinating item and the first we can recall seeing posted on an Easter Sunday with an Easter theme.
Would make an interesting display page when written up.
Price: £38.00 SOLD
Advertising Envelope for the 'Roth Mago' or 'The Magic Watch' Performance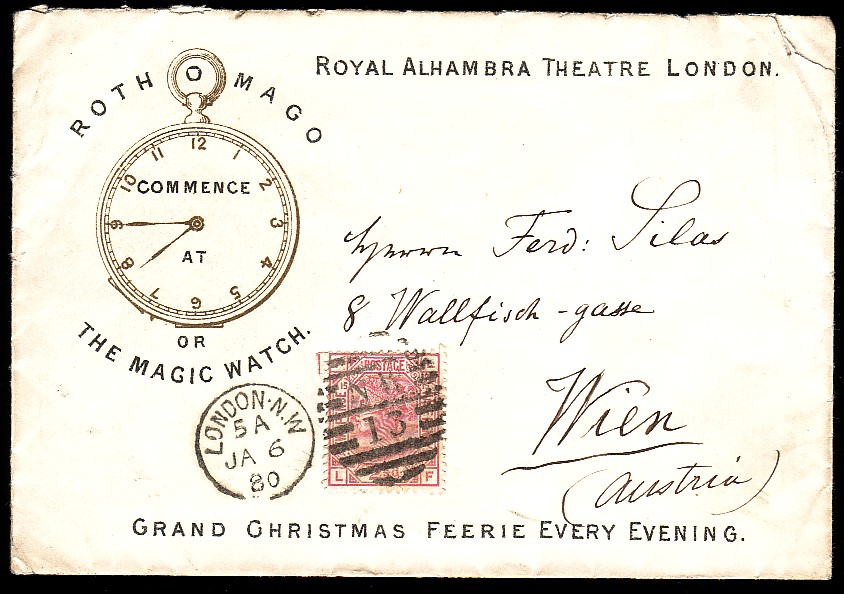 1053. 1880 Advertising Envelope, London to Vienna , January 6 1880.
Rare printed envelope from The Royal Alhambra Theatre, London advertising
'Rotho Mago' or 'The Magic Watch' with a GOLDEN pocket watch showing the time of the performance.
The 3d rate to Austria has been paid by a 3d plate 15 SG143.
Rothomago or 'The Magic Watch' was a grand Christmas Musical fairy spectacular
in 4 acts and 17 tableaux by H B Farnie which opened on December 22 1879.
A rare survivor and especially to an overseas destination.
A very rare and attractive Exhibition item.
Price: £275.00 SOLD
NB: in finer condition than the scan.
Hand printed envelope with hand illustrated letter head 1876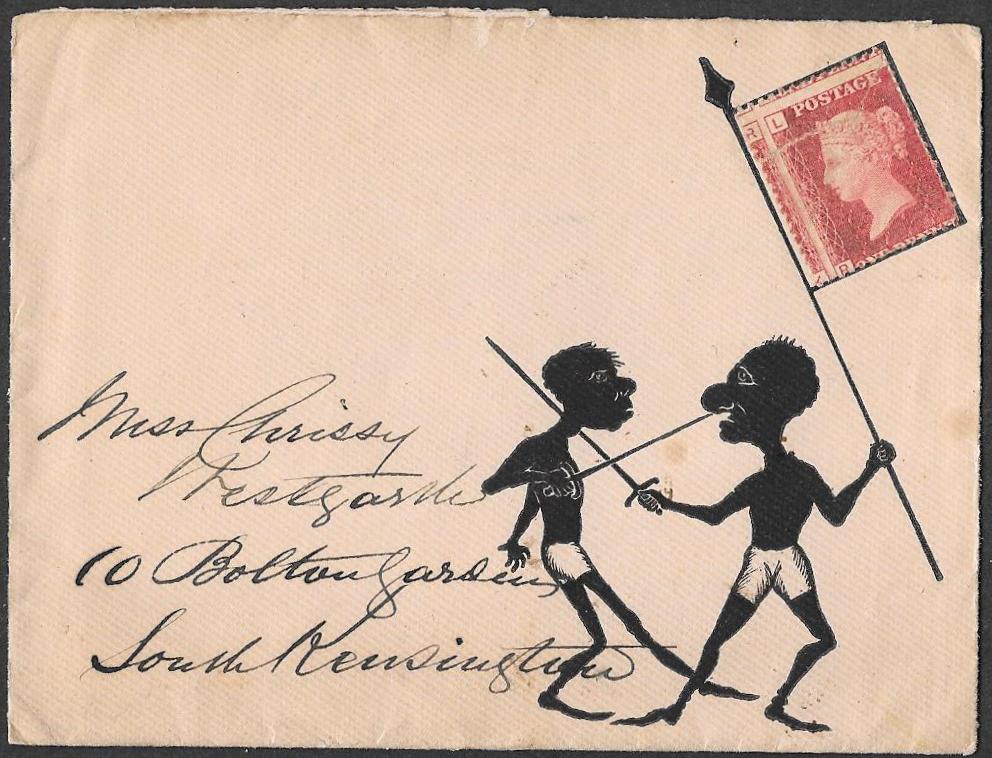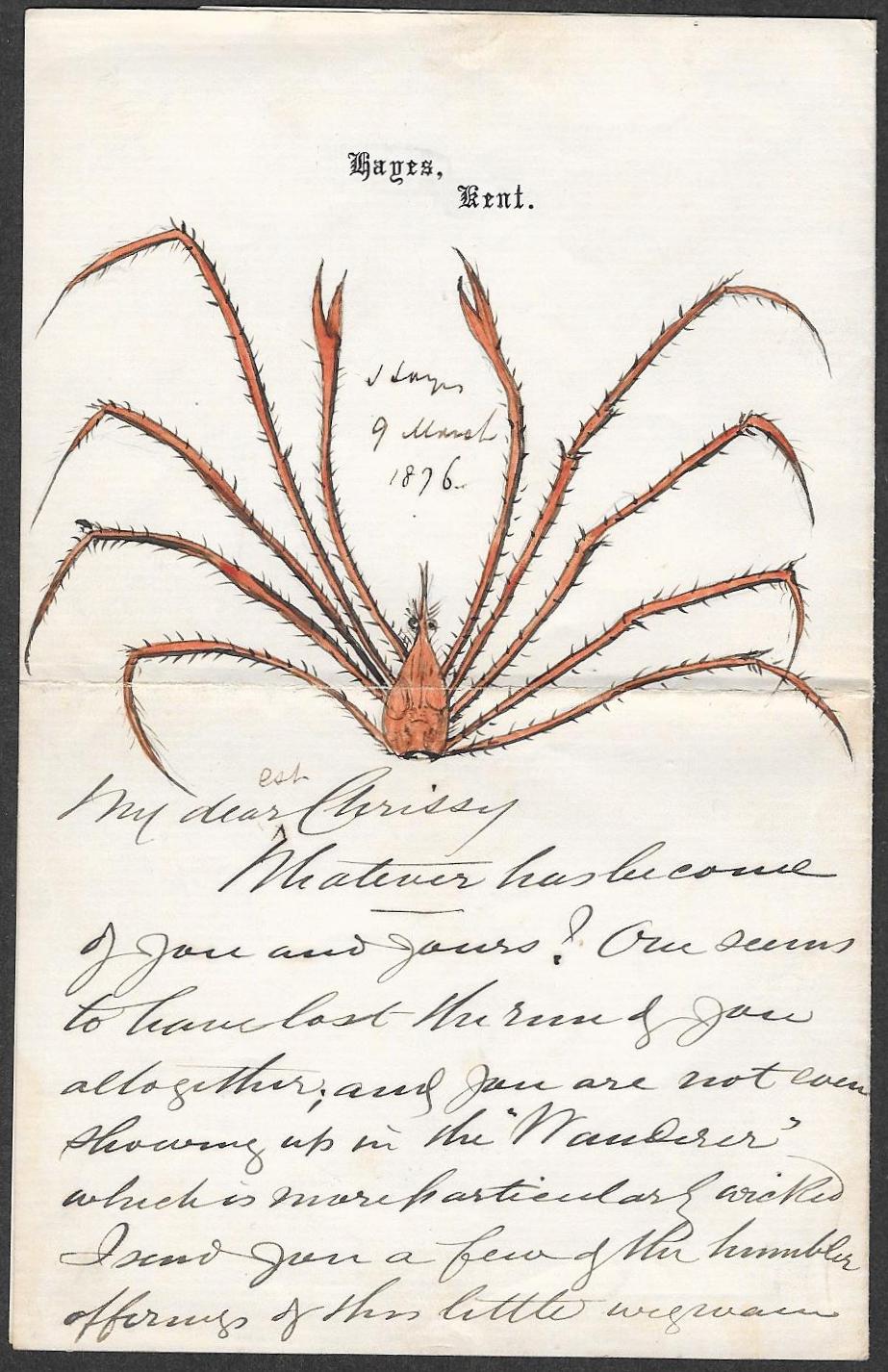 152037. Envelope to London from Hayes Kent, March 9th 1876.
On the front is a printed silhouette of two men fencing.
A 1d plate 163 added to the space within the design but torn.
Inside is the original letter with a coloured drawing of a spider or spider crab.
The 3-page letter is largely berating the recipient for not keeping in touch and ends 'Yours Angrily'.
Part of the rear flap missing and no postal markings so the letter was either
hand delivered or it got through the system without cancellation or transit date stamps.
An attractive and very scarce item having the hand drawn and coloured letter heading.
Price: £175.00
NB: Hayes, Kent was a village near the London Borough of Bromley but is now a suburb of it.
A rare redirected printed envelope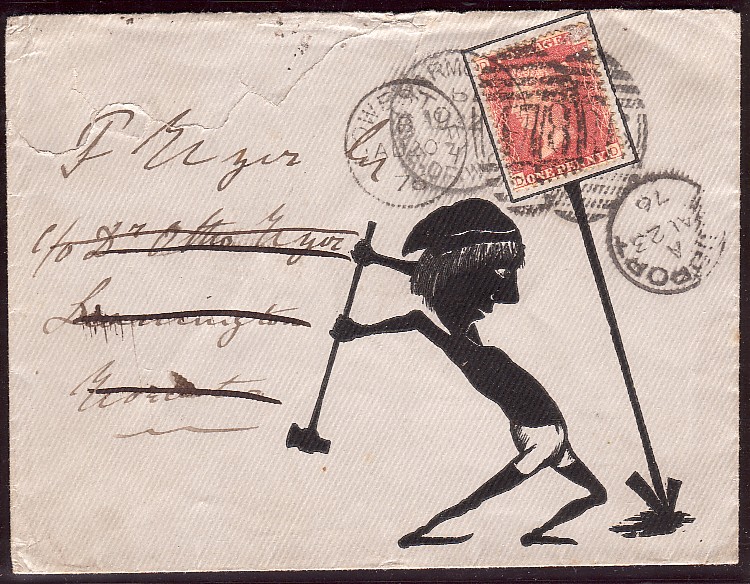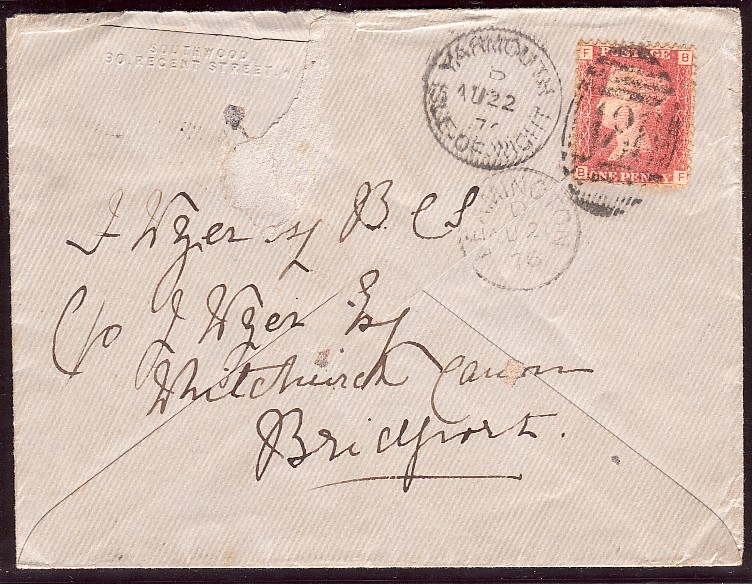 22. Printed caricatured envelope of a man with a hammer erecting a sign'.
Franked 1d red pl 160, tied Lowestoft 478 duplex August 20 76
clear of the caricature with Leamington cds on reverse for August 21 76.
REDIRECTED with new address on rev of envelope to Bridport, I of Wight.
Original 1d on front o/struck by Gt Yarmouth I of Wight duplex (486),
for August 22 1876 but on new address side another 1d red, pl 167,
added and cancelled by Gt Yarmouth duplex for August 22 1876.
Most unusual and rare with redirection.
Price: £135.00
Hand drawn scene on a Front: Oban 1885
151993. 1d lilac tied to hand illustrated Front from OBAN to ESTHER, July 7th 1885.
Pen drawn scene rather naively executed but with an interesting and unusual composition.
Price: £55.00
Rare hand drawn african warrior on a Front: London 1885
151994. 1d lilac tied to an illustrated mourning Front from LONDON to STOCKTON - on - TEES, April 20th 1885.
A very unusual and rare fine hand drawn african native warrior.
The apparent browning at the top of the front is very much fainter than in the scan.
Price: £58.50 SOLD
Postcard coloured drawing on reverse: Sutton 1898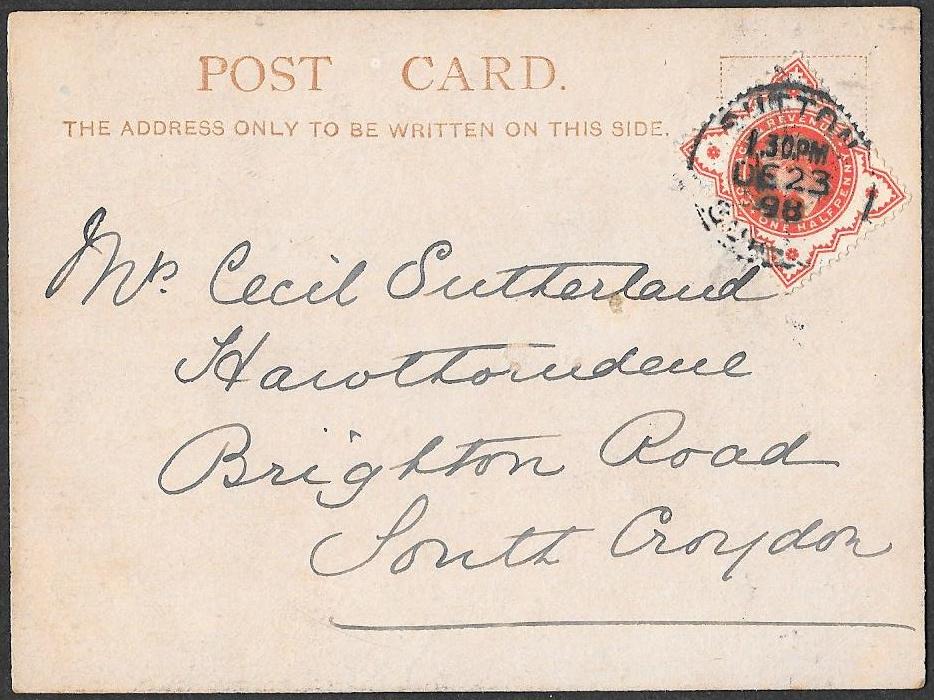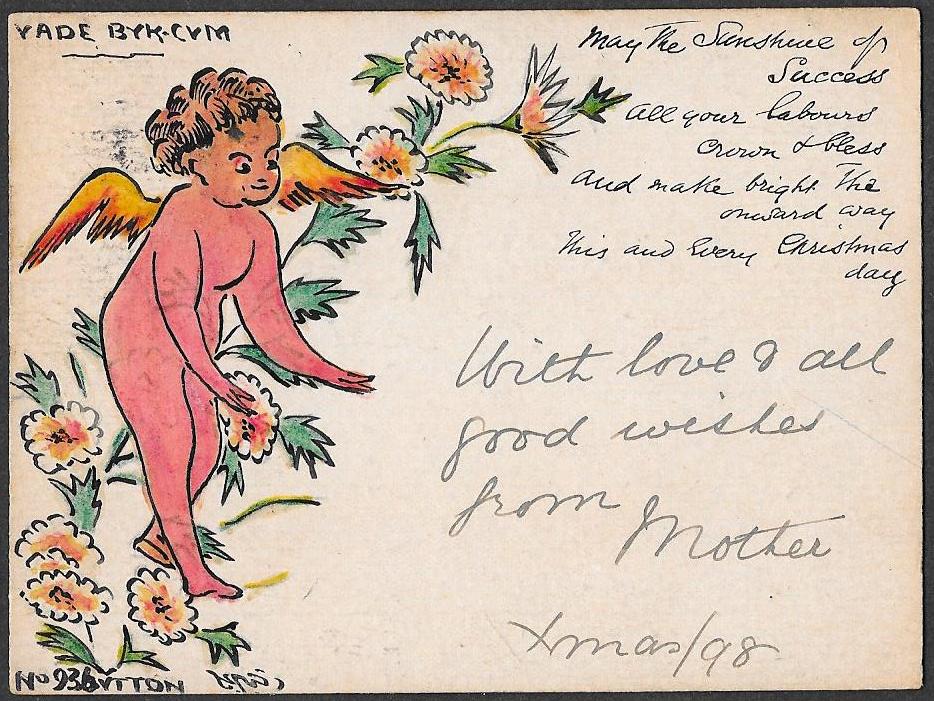 151995.
1/2d SG197 on a very fine postcard, SUTTON to SOUTH CROYDON, December 23rd 1898.
On the reverse is a hand drawn and coloured angel/cherub together with a poem and Xmas greetings.
An attractive item.
Price: £58.00
Envelope to Battle finely hand drawn mother and girl: 1870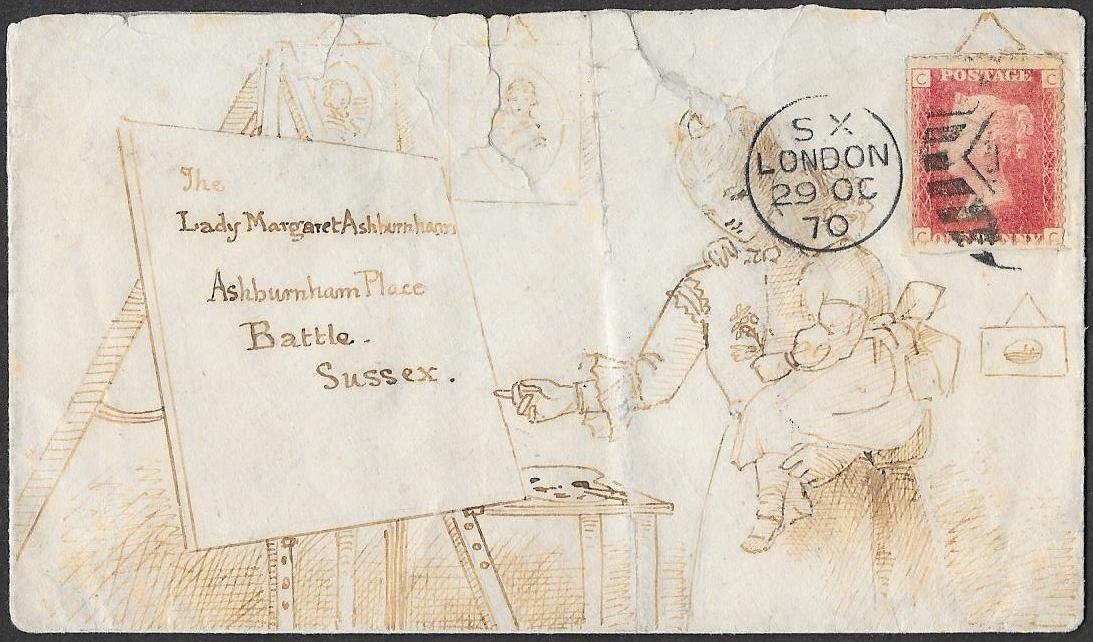 151996. 1d plate 119, fine, on an envelope from LONDON to BATTLE, October 29th 1870.
The top of the envelope has a few tears as per the scan but on the front is a
delightful drawing of a mother holding her daughter? in an artists studio.
The lady is pointing to the address on the easel - The Lady Margaret Ashburnham.
Details of this aristocratic family can be found on the internet.
Despite the faults, an attractive drawing and an early example.
Price: £55.00 SOLD
Pair of fronts sent to family members: 1892
151997. Two fronts mounted on card, the first from HORNSEY to Nottingham, 1d lilac, defective, tied by Hornsey squared circle for January 13th 1892.
On the front is the drawing of, for the time, a scantilly dressed lady - an actress?
Offered as a pair with another front, mounted on card, from NOTTINGHAM to HORNSEY, the 1d lilac tied by a Nottingham duplex for September 19th 1892.
The stamp is incorporated in to the drawing of a grandfather clock with the name on the dial: P Edson 1892.
Price the pair: £48.50 SOLD
Rare theme: Court Jesters
151334. Front mounted on card with 1d lilac tied by Hornsey squared circle, February 22nd 1892.
Hand drawn address being held unusually by two Court Jesters - an attractive and scarce theme.
Price: £52.50 SOLD
NB: the overall browning of the front is not as evident as the scan suggests.
Trio of fronts to the same addressee and by the same artist: 1860's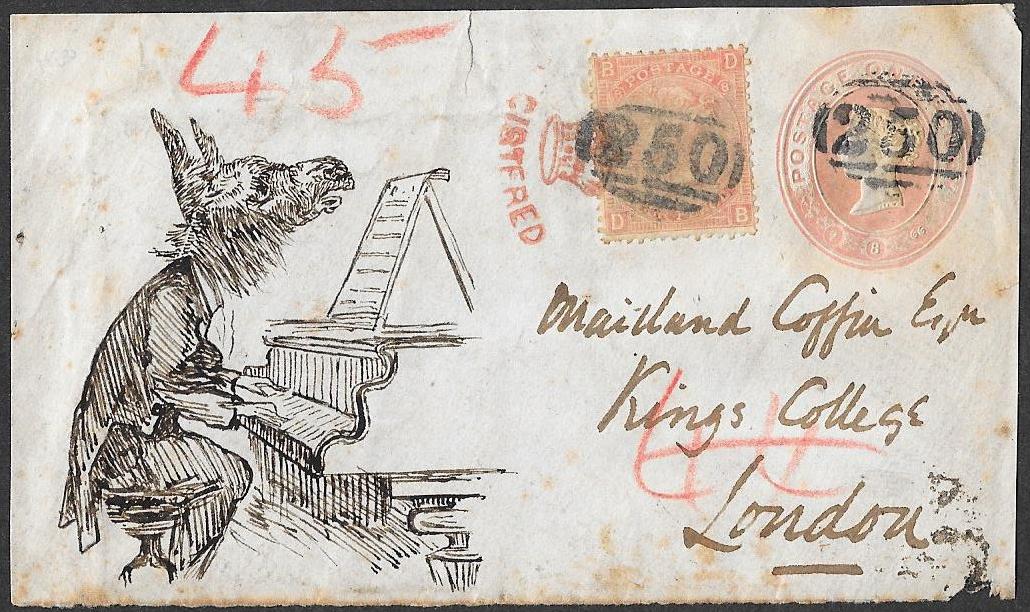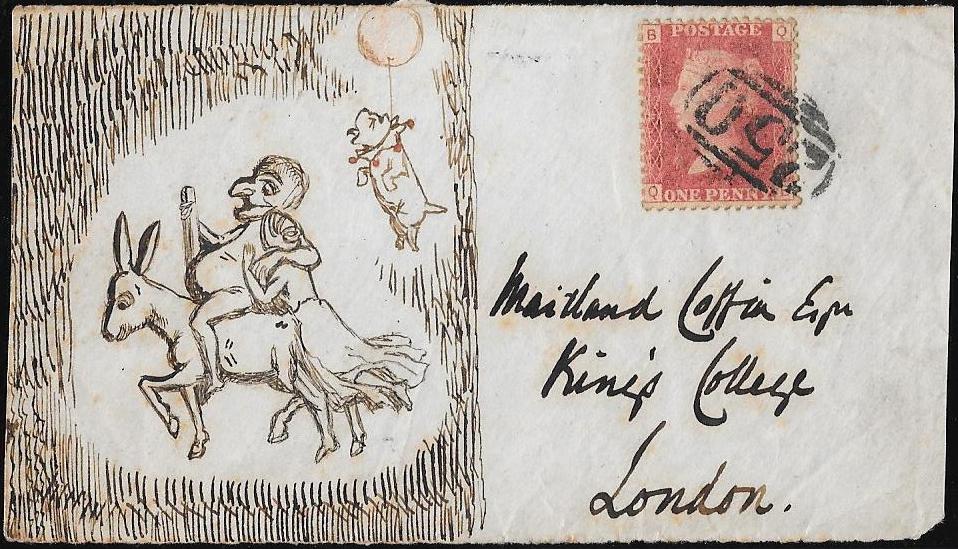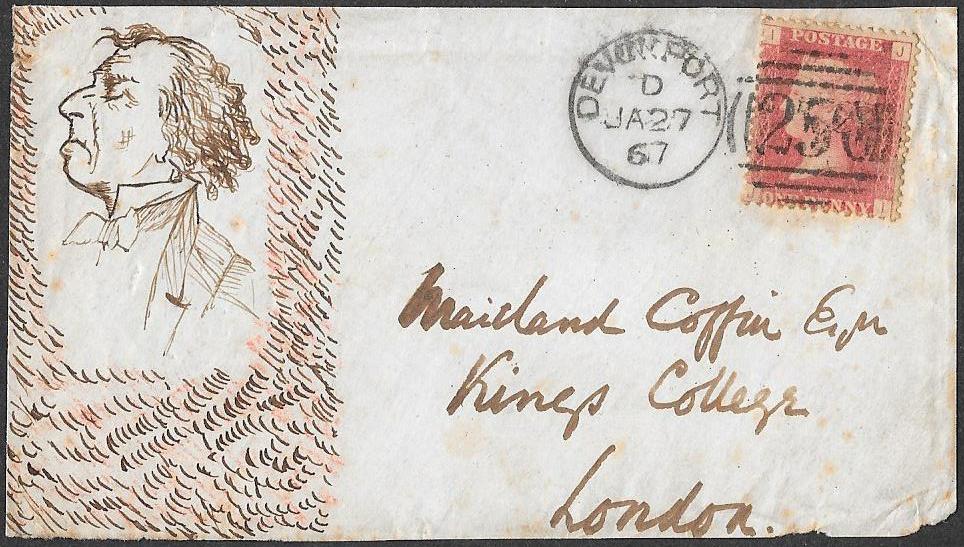 151998. A rare TRIO of illustrated fronts by the same artist and to the same addressee,
a Maitland Coffin, at KINGS COLLEGE LONDON all from DEVONPORT.
The first, a registered front, has the 4d registration fee paid by a 4d SG94 PLate 8, put to press in 1866.
The fine drawing is of mule/donkey headed pianist: we cannot recall seeing another hand illustrated registered item from this period.
The second has a 1d plate 95 tied by the '250' of Devonport.
The drawing is of a man on a donkey holding a women with a pig or dog apparently
flying in the air by a balloon and a clown-type collar with coloured baubles.
The third has a 1d plate 99 tied by the Devonport duplex for January 27th 1867:
the drawing is of Benjamin Disraeli who at that time was Chancellor of the Exchequer
A very unusual grouping indeed which could be well presented in a display.
Price the trio: £180.00
NB: the condition of each is finer than the scan suggests.
Printed Envelope and Letter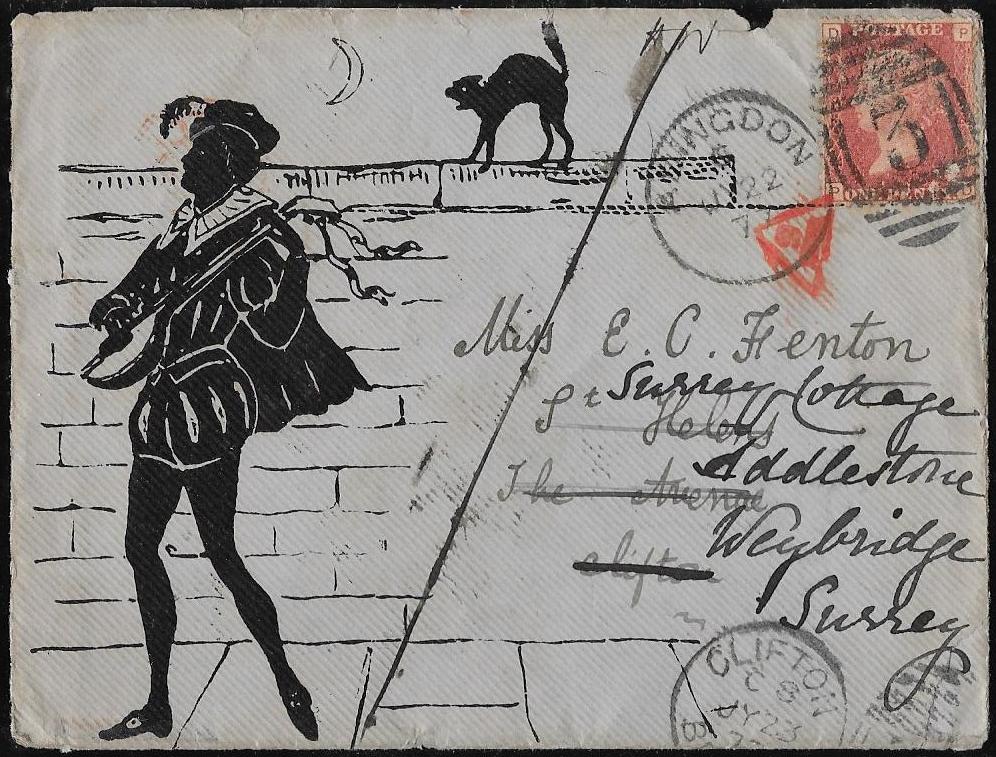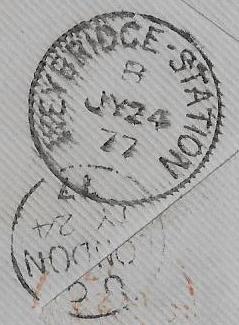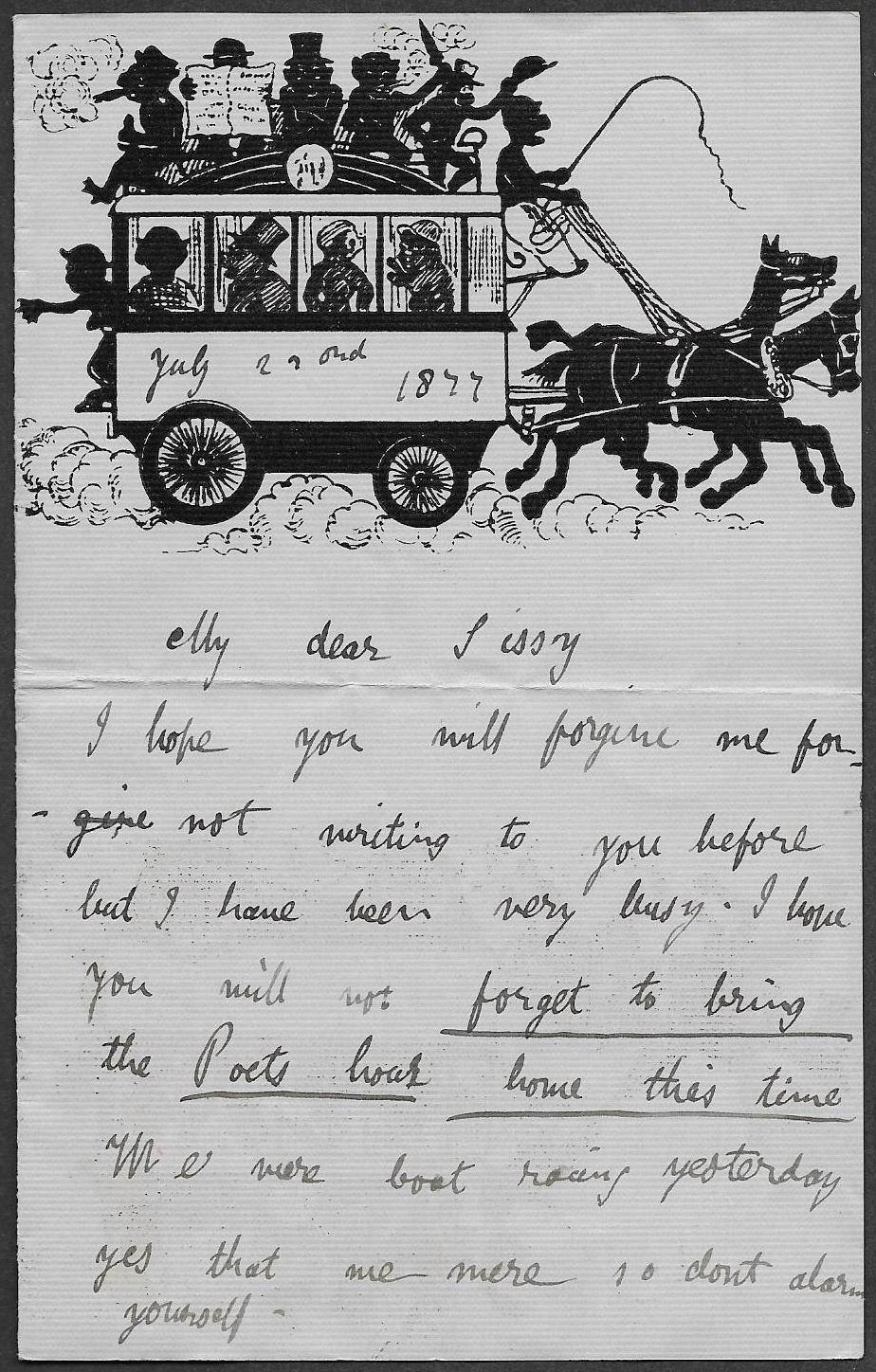 151809. An attractive printed envelope of a man, in period dress, playing the lute,
which seems to be making the cat's hackles rise!
The 1d red plate 184, is tied by the ABINGDON duplex for July 22nd 1877 and addressed to Clifton.
On receipt in Clifton, it was redirected to Weybridge, and there is an inspectors mark in red.
On the reverse is a Weybridge Station cds for July 24th 1877.
The original letter has a printed line egraved heading showing in silhouette a horse drawn carriage
with TEN passengers each caricatured in animal form and similarly the driver.
This type of caricaturing was common in the Victorian period and socially acceptable to them;
a part of the social history of that time. The date of the letter is on the carriage side.
The interesting letter is written by a brother to his sister and signed on the next page of the folded letter.
A superb and attractive line engraved illustrated envelope and RARE when paired with the engraved letter.
Price: £325.00
NB: We have seen only one other example of this illustrated envelope and that was without its contents.
Drawings on both sides of Envelope 1884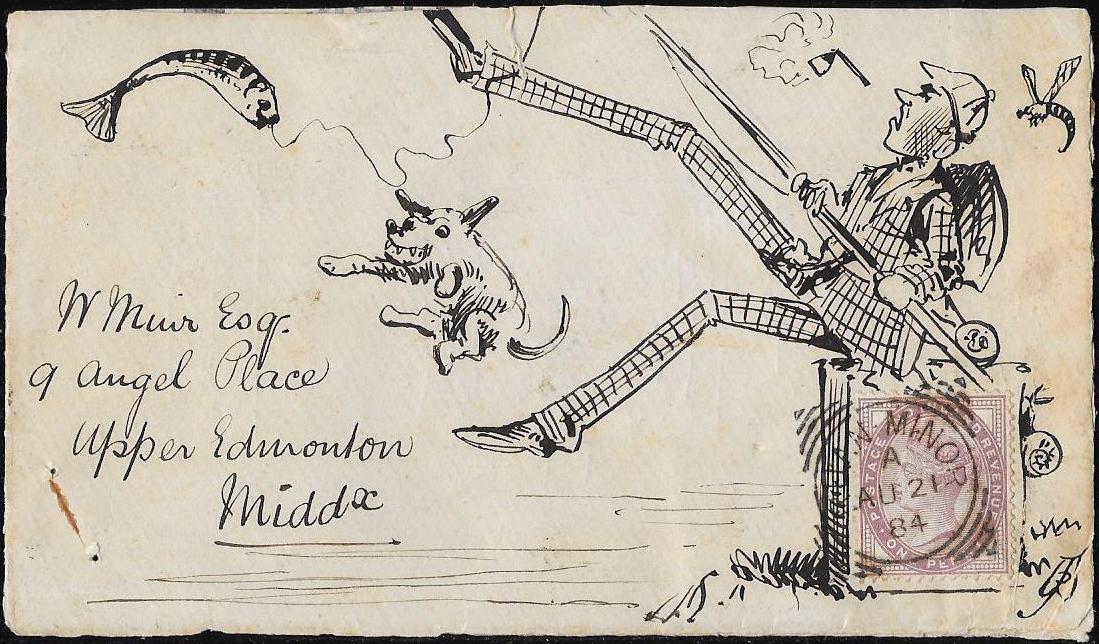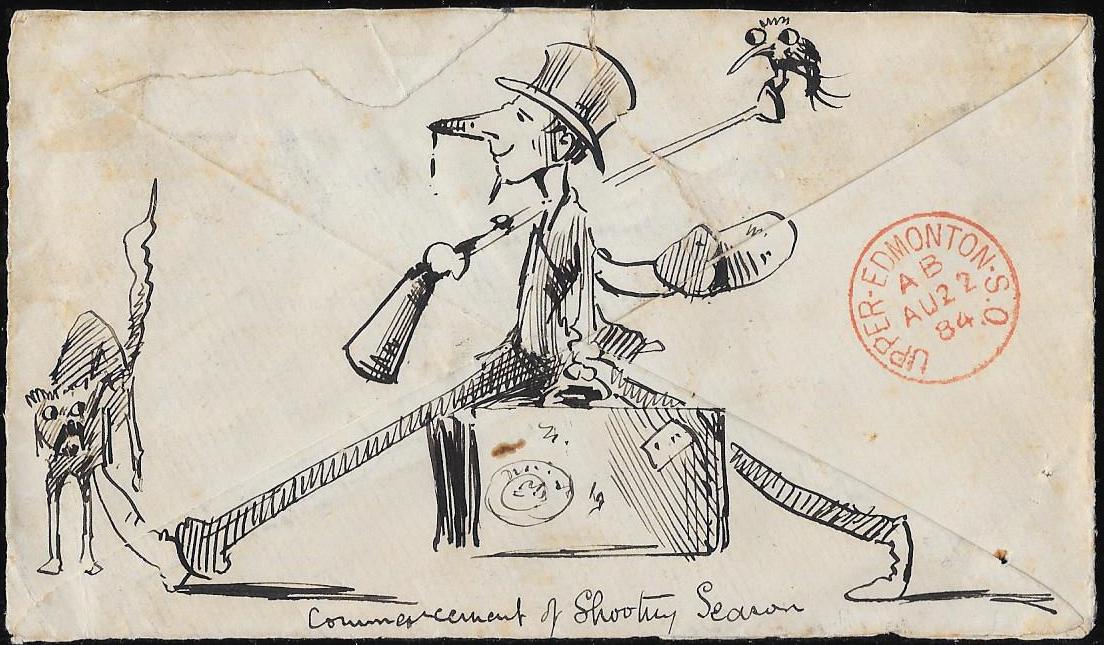 151783. Envelope, opened at the right side and bottom for display purposes,
with 1d lilac SG172 tied by a RUAN MINOR, square circle, August 21st 1884.
Upper Edmonton receiver on reverse, August 22nd 1884.
Hand drawn on the front (shooting) and on the reverse (fishing) and across the inside is
a printed coloured country/seaside scene of a young woman and man.
The envelope roughly opened at the top and repaired and some edge damage to the printed inside scene.
The grouse season would have started on August 12th 1884.
An attractive and remarkable combination of features.
Price: £175.00 SOLD
NB: The cornish village of Ruan Minor had a population in the 1881 census of only 272.
The apparent brown areas on the front and reverse of the envelope are NOT present - a trick of the scanner.
The long stride of the gentleman: is it a forerunner of John Cleese's walk!
Pen and ink drawing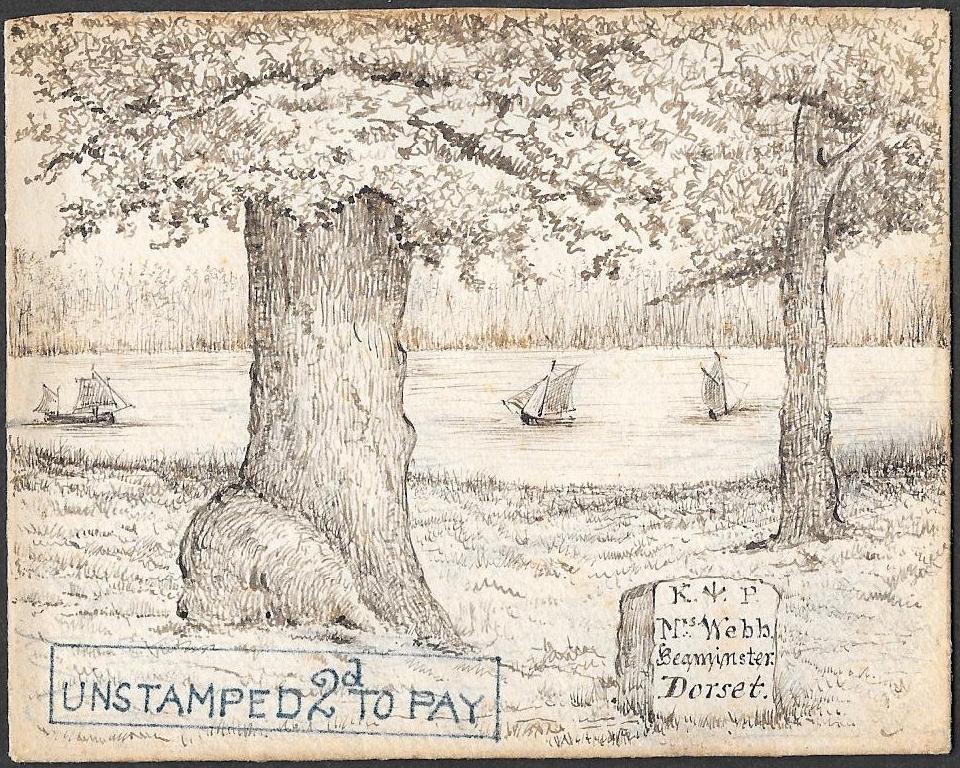 151787. Very fine pen and ink drawing on clean and uncreased, unstamped envelope addressed to Beaminster.
The top flap is missing, no postal markings and possibly sent locally.
The artist did not want to put a stamp on the envelope as it would spoil his drawing
so he added at the bottom 'UNSTAMPED 2d TO PAY'.
Very unusual and the first such we have seen.
Price: £110.00 SOLD
Hand illustrated address sent on Christmas Eve
151785. A beautiful hand illustrated and addressed, clean and uncreased envelope, top flap missing,
with a fine 1d plate 206 tied by a Brierley Hill duplex for Christmas Eve 1878 and sent locally.
Clearly painstakingly, and lovingly, adorned with a delicate border and other ornate decorations.
No doubt a Christmas card or letter would have been originally enclosed.
The contents are gone, but thankfully the envelope was retained and from its excellent condition, cherished.
An early example of such an item and rare.
Price: £120.00 SOLD
Rare hand painting of Sark harbour Channel Islands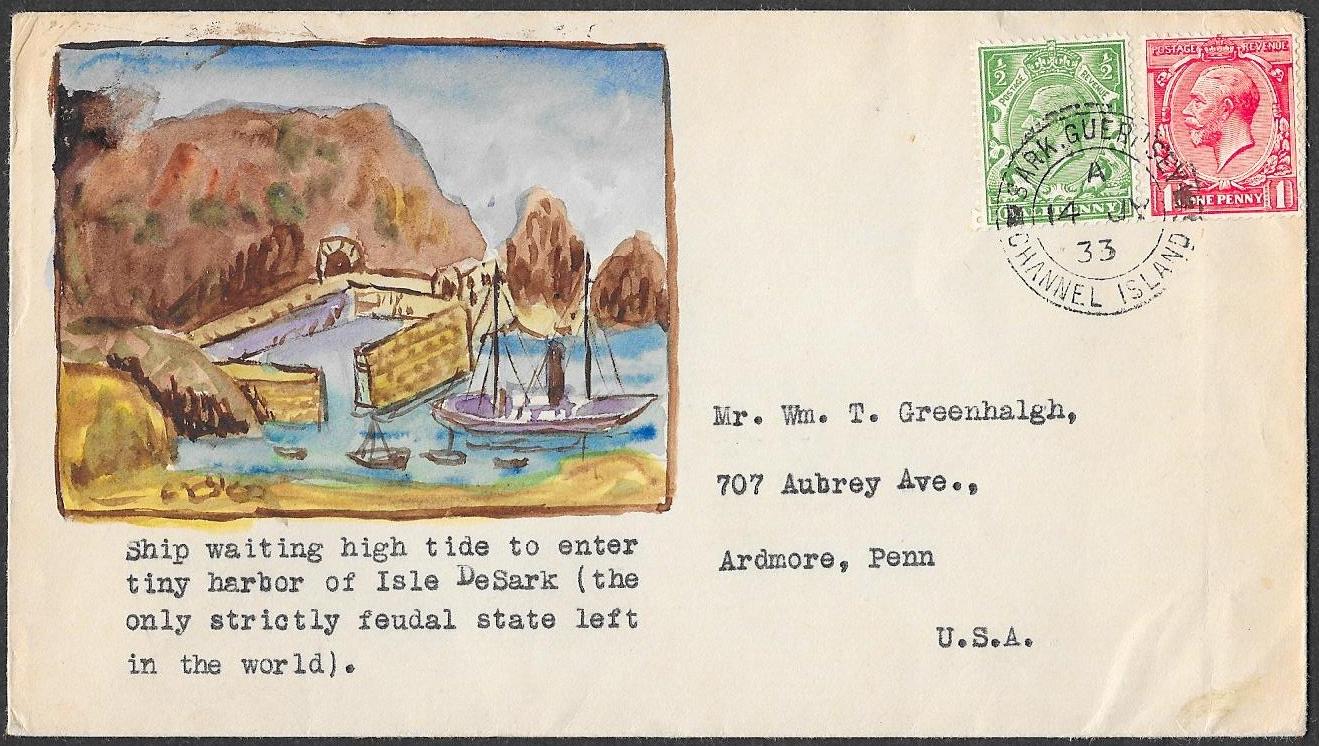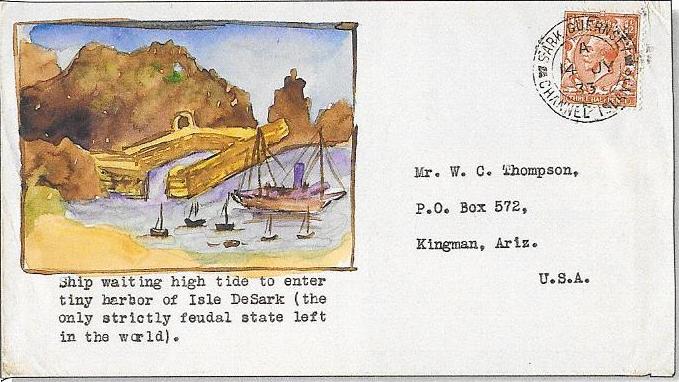 151673. Miniature watercolour of Sark harbour on envelope addressed to the USA, no postal markings on reverse.
Franked by a GV 1/2d and 1d and tied by the Sark Guernsey Channel Islands cds for July 14th 1933 with
a typed description of the painting beneath it.
The second image is of an item that was offered by David Feldman in the Sale of
the Hassan Shaida Collection of Illustrated Envelopes in May 2005, Lot 40087, and illustrated on page 42.
It was described as an extremely rare item from Sark and estimated at £130-£220 allowing for the conversion from Swiss Francs.
We do not have the realisation figure.
The two items were clearly painted by the same person, cancelled on the same day, July 14th 1933, but to different addressees.
An attractive, superb and rare item.
Price: £155.00 SOLD
NB; the envelope is in a finer condition than the scan suggests.
Hand illustrated envelope with contents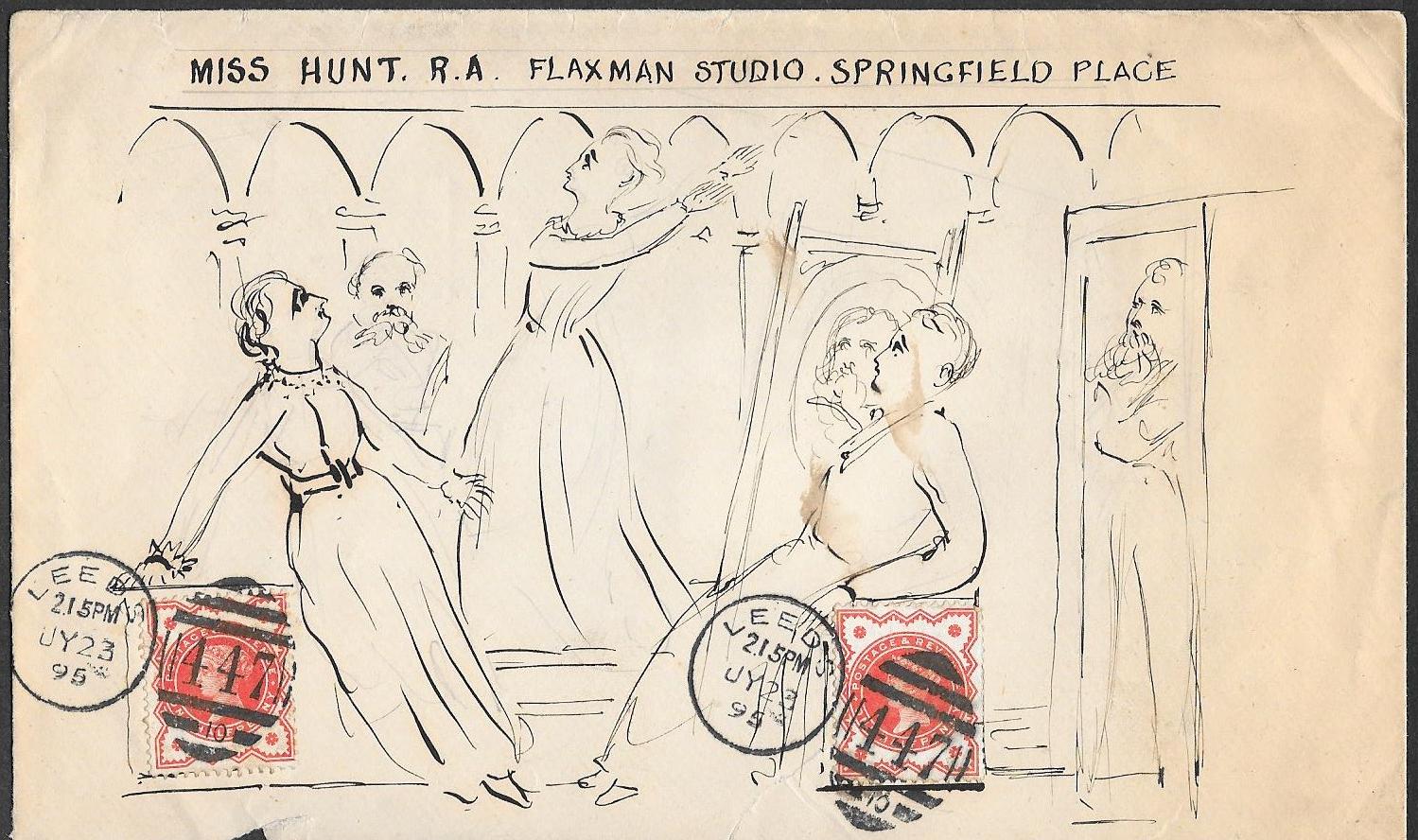 151661.
Envelope, trimmed slightly at the base, used locally within Leeds, two 1/2d SG197, tied Leeds duplex, July 23rd 1895.
Fine hand drawn sketch on the front of the envelope - roughly opened on the reverse top flap.
Contents are a printed letter from the Yorkshire Union of Institues and Yorkshire Village LIbrary.
The letter also has, after 'Yours truly', a sketch of the sender, Frank Curzon, instead of his signature.
From our researches, we are aware of one other of his letters, not hand illustrated, also 'signed' in this way.
In finer condition than the scan.
An unusual item.
Price: £90.00 SOLD
Unusual themes: hand illustrated front
151661. 1d lilac SG172 and 1/2d slate-blue SG187 tied to front by Kingston-on-Thames cds's, June 24th 1886.
Various adverts, some amusing, on a front to Chester.
Unusual.
Price: £32.50 SOLD
Valentine embossed envelope: 1854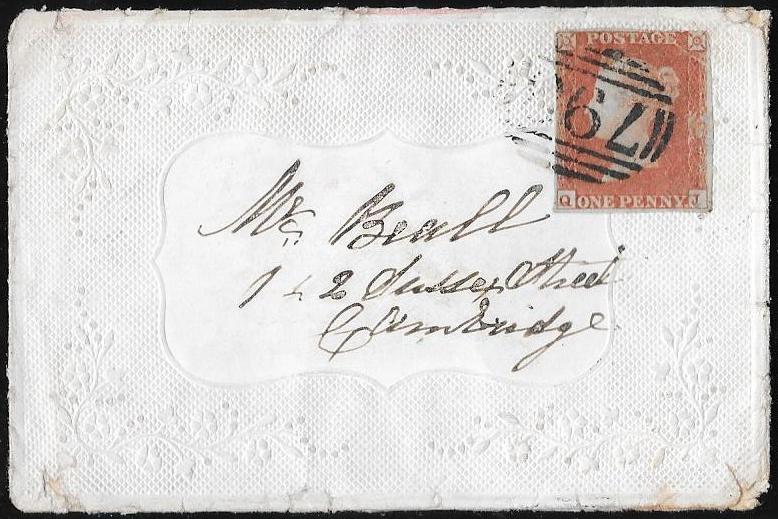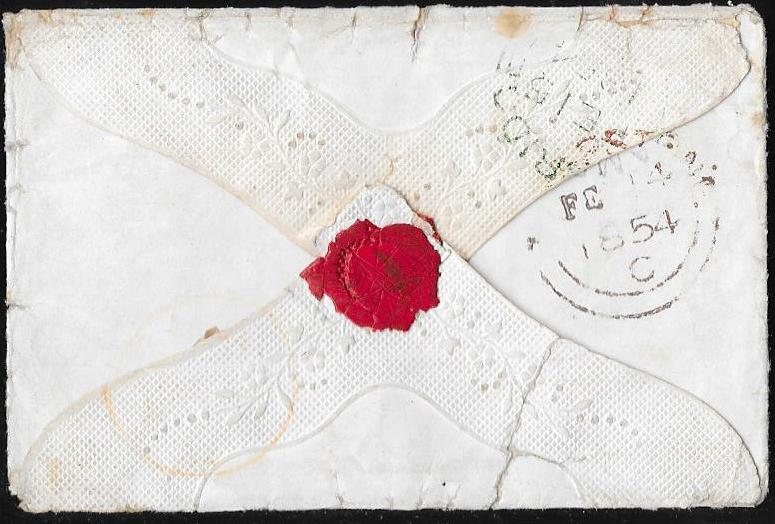 151649. 1d red imperf, 'QJ', Plate 169:
3-margined example with a diagonal scratch to the plate in the NE corner.
This has resulted in an unprinted area.
The stamp is tied by the '798' of THRAPSTONE, Northants.
Sent to a Miss Beale in Cambridge, on Valentine's Day, February 14th 1854.
On the reverse is a receiving cds for the day after Valentine's Day!!
This might explain why the reverse of the envelope has some damage to it:
perhaps the recipient was very eager to get at the contents?
A delightful fancy printed envelope with an embroidered and flowery design.
Some peripheral faults but a rare example of a Valentine with a 1d red imperf.
Rare also to find the 1d red displaying damage to the printing plate.
An attractive and rare item.
Price: £170.00
NB: the reverse side is in better condition than the scan suggests
A Mysterious Affair at Doncaster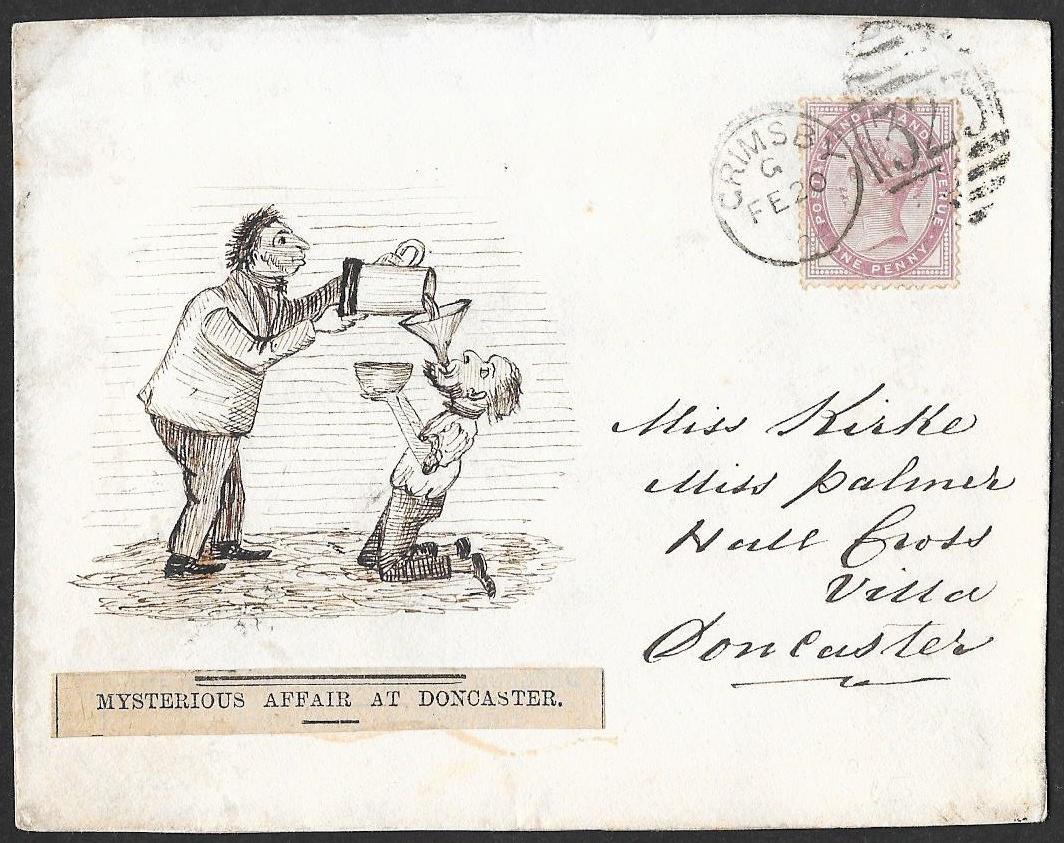 151578. Front from Grimsby to Doncaster, February 20th 1884.
Fine hand drawing of a 'Mysterious Affair at Doncaster'.
On the reverse is a large part of a drawing with a milk maid unsuccessfully trying to control a cow.
A fine and unusual combination of themes addressed to two ladies.
Price: £49.00 SOLD
Hand drawn embossed 1d front 1865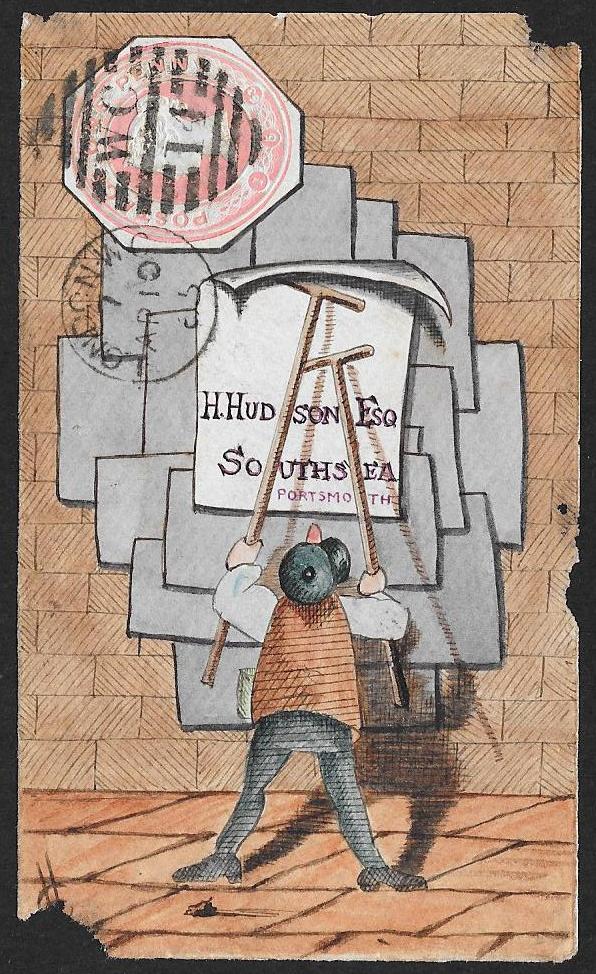 151566. Very well executed coloured front of a 1d pink embossed envelope,
with a printing date of 1-5-63, incorporated into the design.
Sent from London W C to Southsea, Portsmouth, April 10th 1865.
An early example especially so well drawn and coloured.
Price: £75.00
Rare miss-cut: Valentine's original Temperance Envelope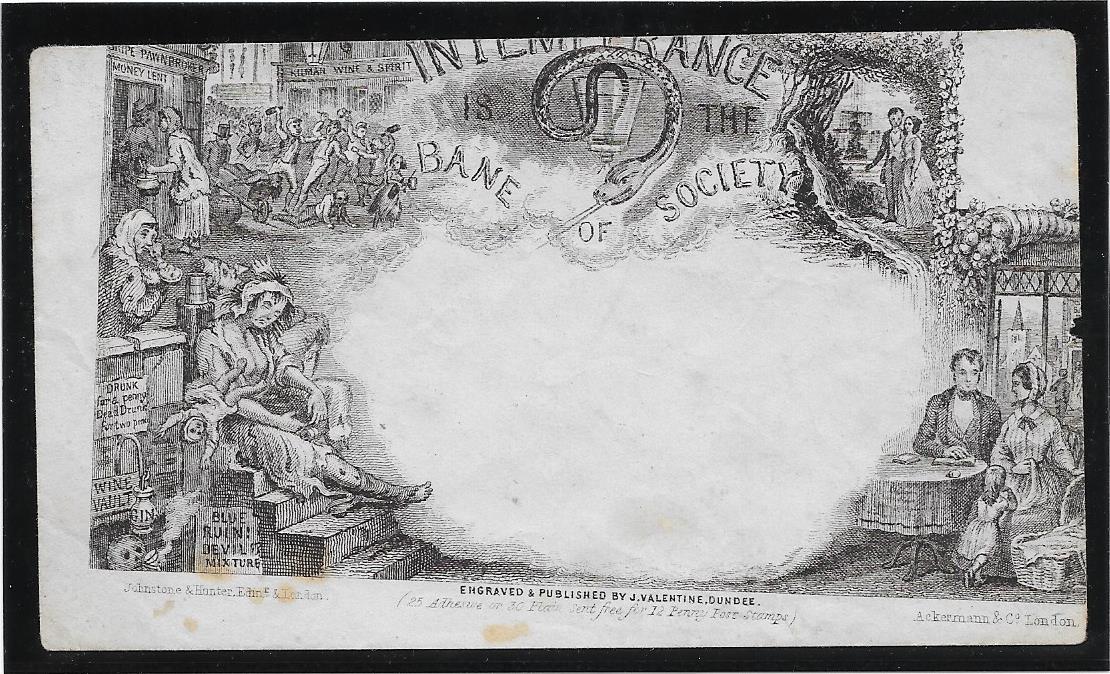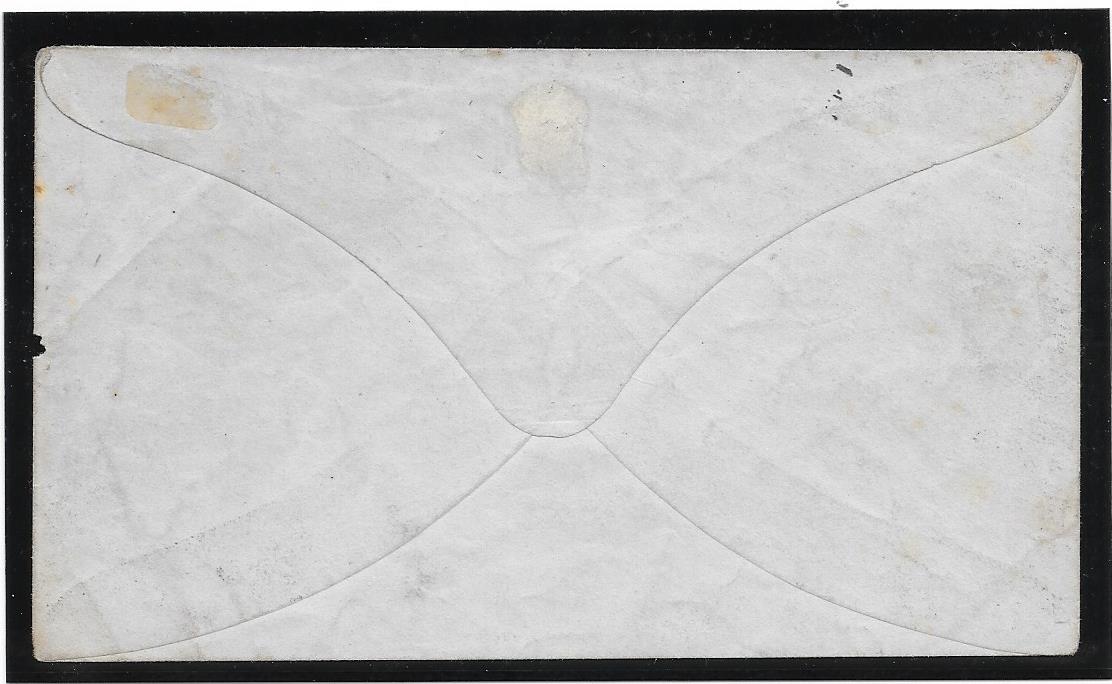 151633. Valentine's original State 1,Temperance Envelope with a rare miss-cut.
Very small nibble at the right and a few age marks: fainter than the scan suggests.
Overall in fine condition for such a rarity; the first we have seen.
Price: £148.00
Rare miss-cut: Ocean Penny Post by Valentine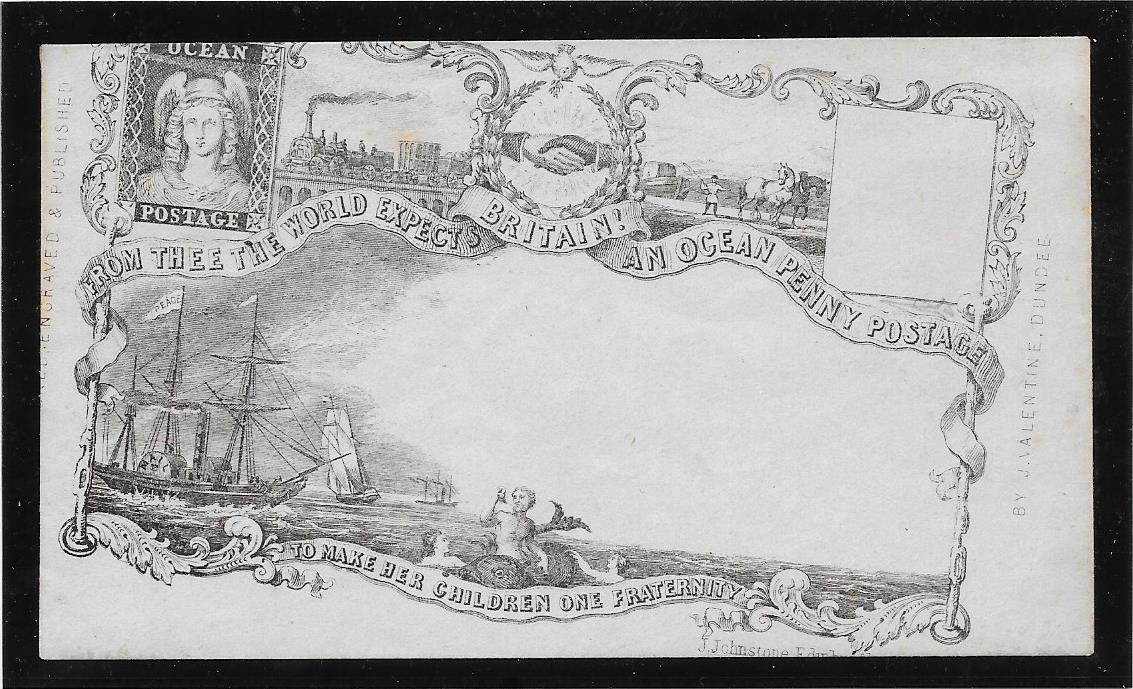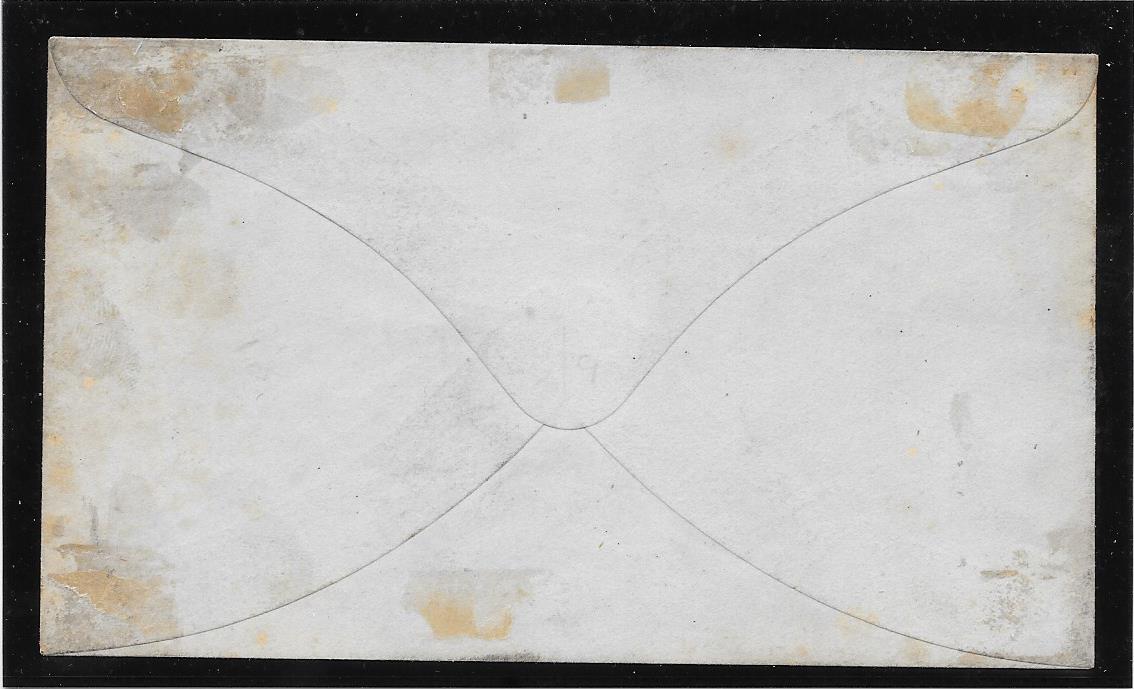 151532. An original Ocean Penny Post by Valentine, State 3:
A rare example showing a significant miss-cut and the first we have seen.
A rare item.
Price: £185.00 SOLD
NB: in finer condition than the scanned image.
A drawing within a drawing.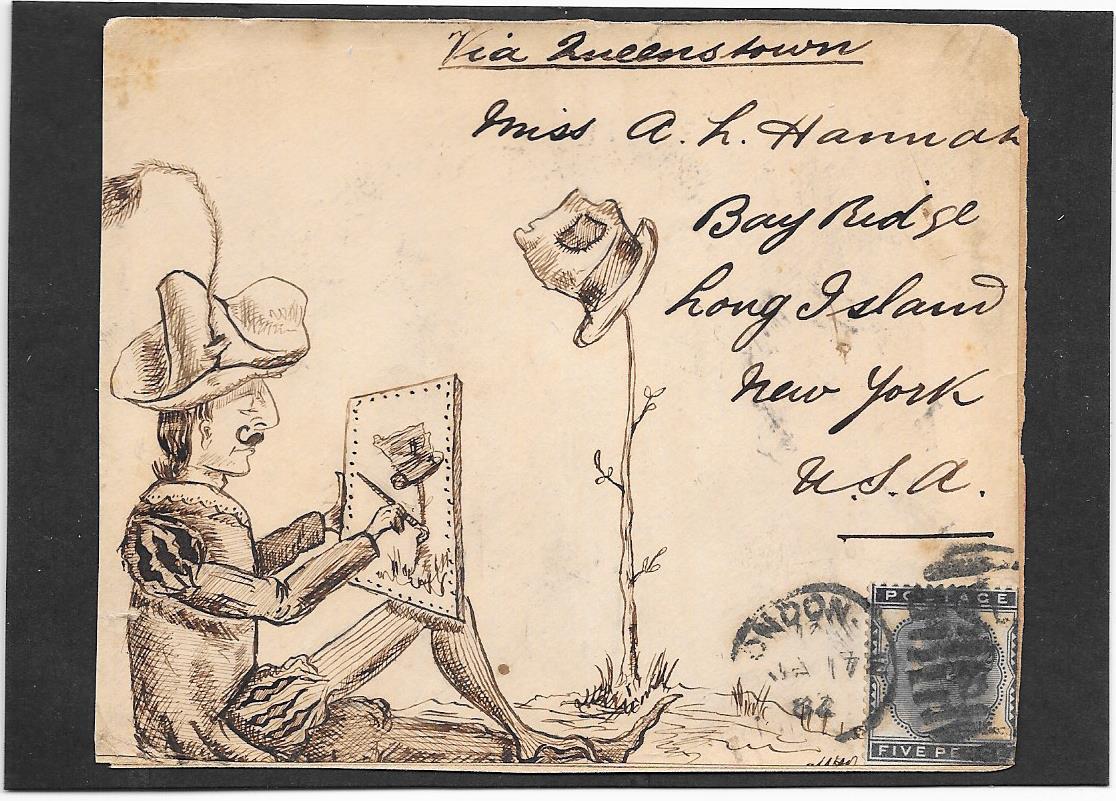 151456. Front from London to Long Island, New York, via Queenstown, 5d SG169, trimmed perfs at right:
January 17th 1884 with a rare franking and destination for a hand drawn item.
Very unusual theme depicting a man in Tudor clothing
drawing a still life topic,'hat on a thin stem'.
Scarce combination of features and well sketched.
Price: £68.00
NB: item in cleaner condition than the scan suggests.
Hand drawn mock up of Pearson's Weekly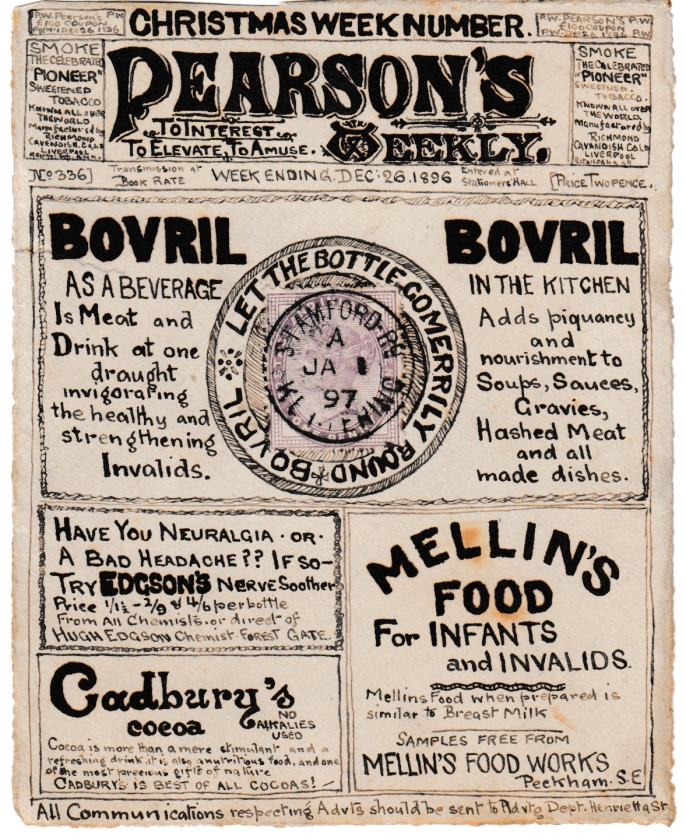 151318. Hand drawn 'mock up'? of Pearson's Weekly,
'To Interest, To Elevate To Amuse' with a range of adverts.
The browning in the Mellins Food advert is far fainter than the scan suggests.
A rare item.
Price: £125.00
NB: Details of Pearson's Weekly and related publications are available on the internet.
Very fine drawing of a contemporary gentleman with a pipe: 1877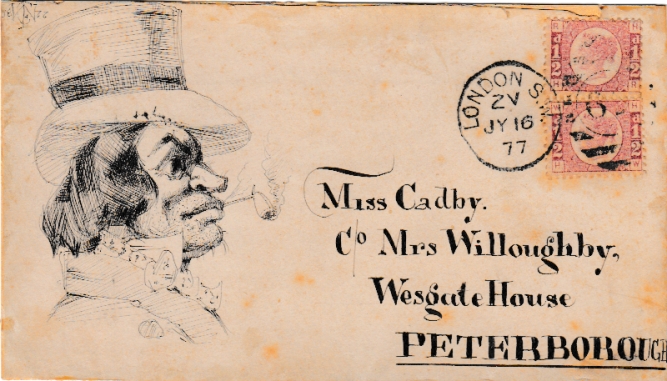 151310. Front mounted on stiff card with pair of 1/2d bantams plate 5 sent to Peterborough:
superb hand drawn ink sketch of a contemporary gentleman,1877, smoking a pipe.
The tone spots are nowhere near as obvious as the scan suggests.
Attractive and very scarce with such a fine drawing.
Price: £80.00
Rare handrawn front showing Sunderland's Industries: 1870's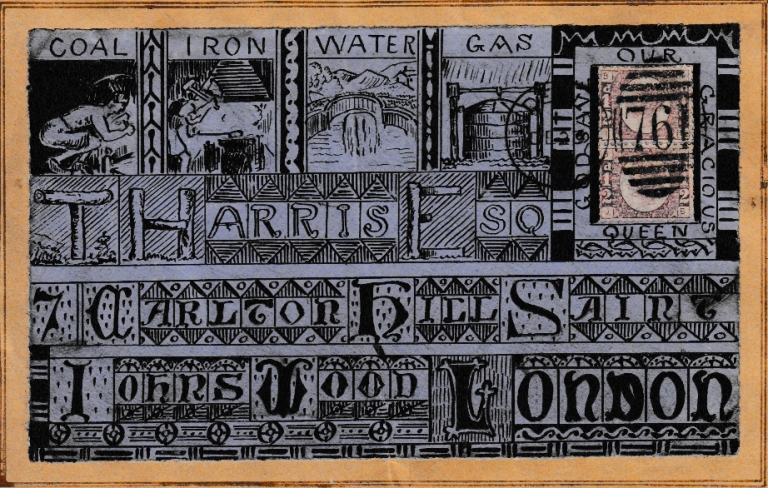 151311. Front mounted on card, vertical central crease, from Sunderland to London,
pair of bantam 1/2d's Plate 15, December 23rd 1878?:
a remarkable handrawn addressed front showing
the major industries around Sunderland at that time,
Coal Mining, Iron for ship building, Water and Coal Gas production.
Could be researched and written up to make a memorable display item.
Rare item.
Price: £145.00 SOLD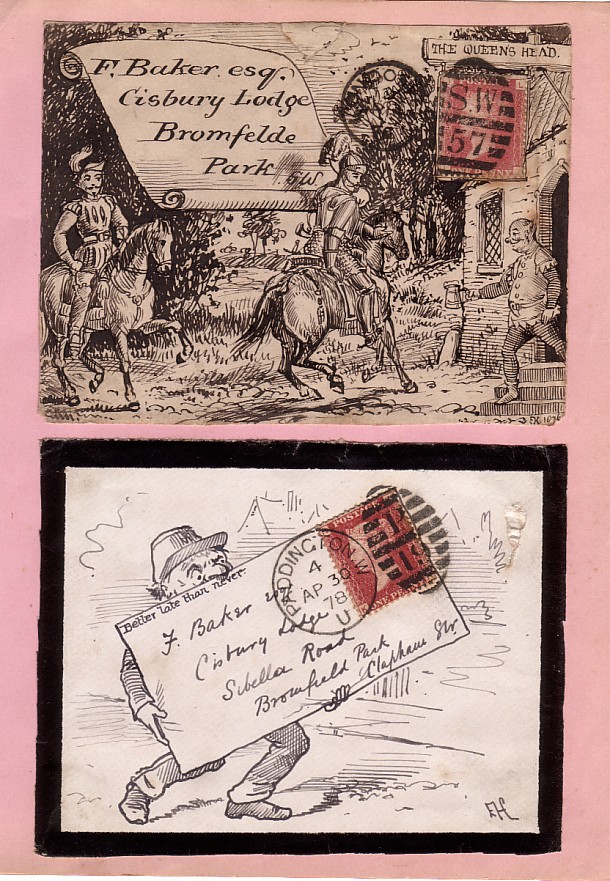 151243. Two fronts affixed to a light card for display.
Some minor faults but by the same artist, intials 'EH'.
Both to the same addressee and address.
The top one from London September 1876, 1d plate 181,
and is very finely drawn with an interesting theme.
The bottom one, from Paddington, April 30th 1878,
1d plate 186, 'Better late than never'.
An attractive and contrasting pair which show the diverse talent of this artist.
Price: £115.00 SOLD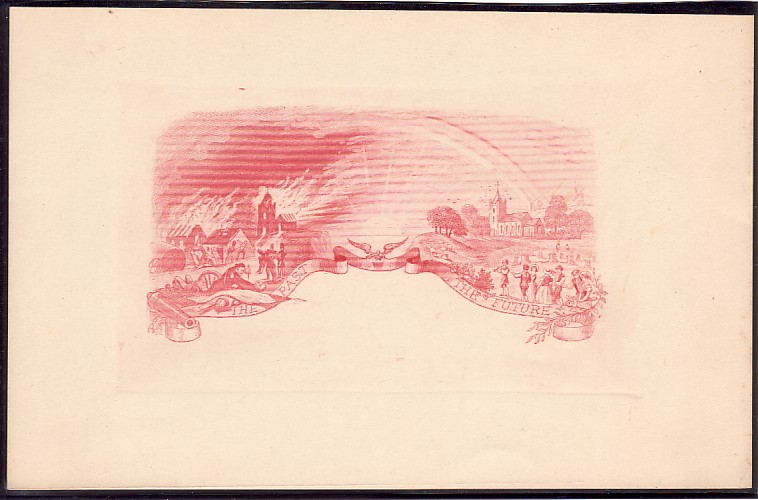 15182. Valentine's Peace Envelope: Very fine example of the unissued design,

printed in the 1890's on thin cream coloured card, in a pink shade.
Price: £110.00

15151. Fores Hunting Envelope No. 4. A super hand coloured Deraedemaeker reprint.

Very attractive and very scarce so fine.
Price: £300.00 SOLD





15154. Fores Military Envelope No.9. Originally issued in a series 1-6 but were so popular that four more designs were produced, 7-10.

All were available plain and coloured. Despite some light wrinkling, which is not as pronounced as the scanned image suggests,

and a few tone spots, this is a RARE original example and with very fine hand colouring.

Only one used example is known and that resides in The Royal Collection.
Price: £675.00 SOLD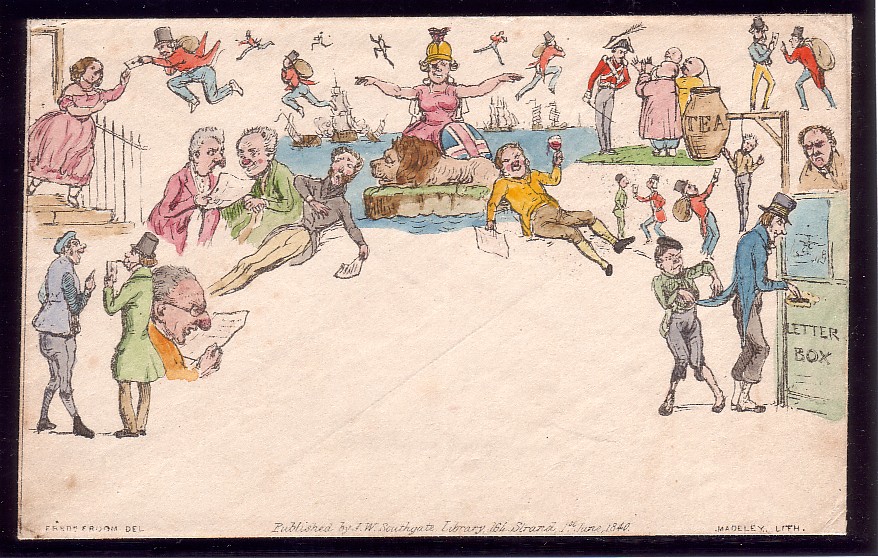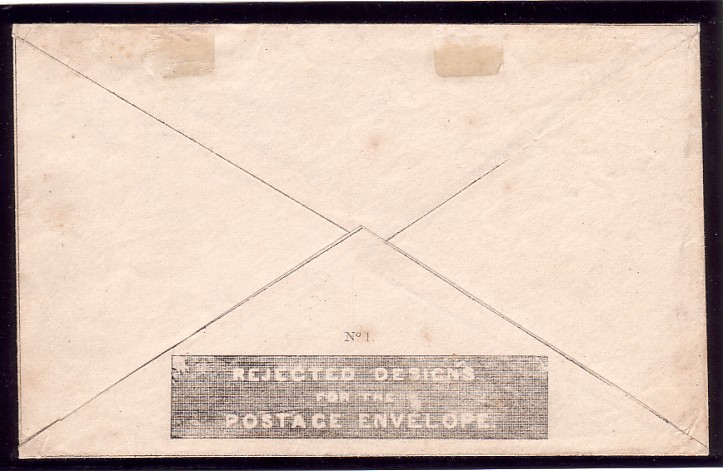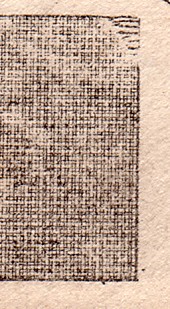 15152. Southgate Original 'Pick-Pocket' Envelope No.1. Superbly hand coloured and in very fine/superb condition.

On the reverse is the line engraved panel 'Rejected Design's for the Postage Envelope'. This shows considerable wear

of the printing plate and at the top right corner can be seen the engraver's attempts to extend the printing life by retouching the panel.

The first time we have seen such wear and retouching on any of the Southgate envelopes.

A very rare example.
Price: £680.00 SOLD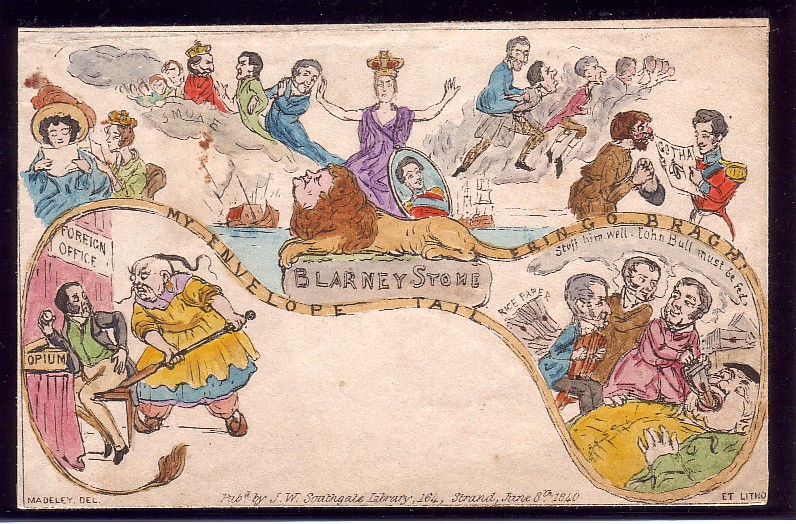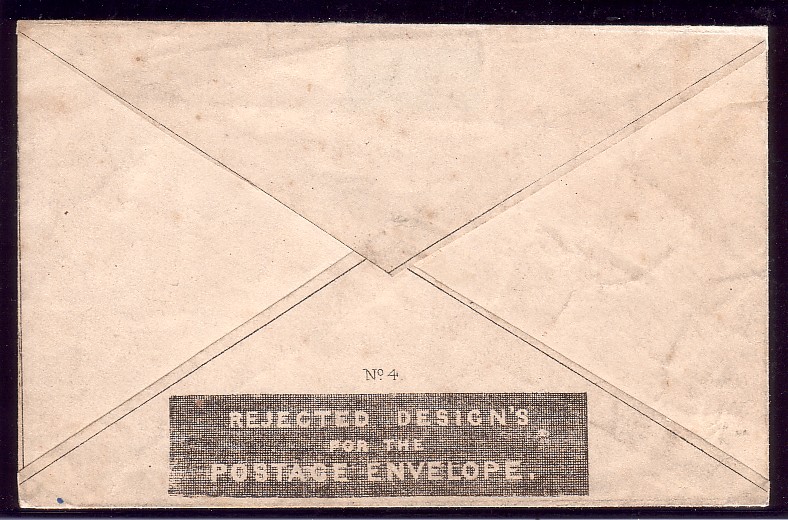 15153. Southgate Original, 'E T Litho', 'Blarney Stone' Envelope No. 4.

Very fine/superb hand coloured example. Rare so fine.
Price: £625.00 SOLD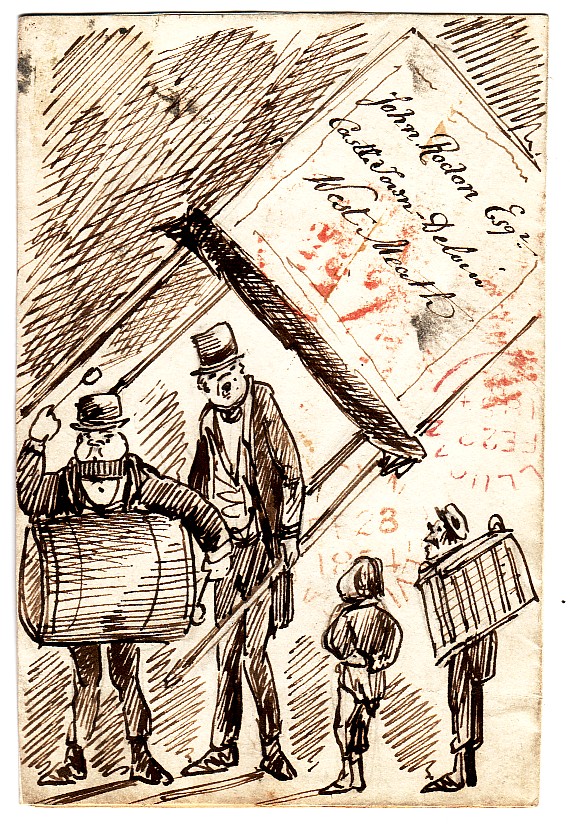 15112. 1854: Front, mounted, to Castletown- Delvin
within County West Meath, Ireland February 22nd 1854.

A pen and ink drawing of a drummer with children.
Struck largely away from the drawing are red cds's of
KILLUCAN and CASTLE DELVIN.

Very early example of a hand drawn item used internally within Ireland.
A charming, amusing and very scarce item.
Price: £75.00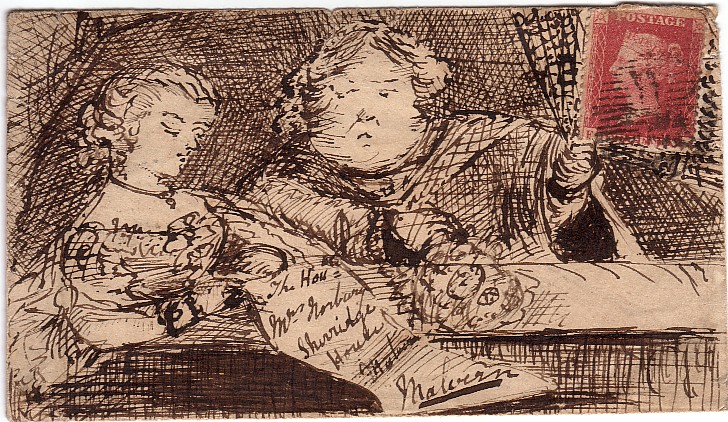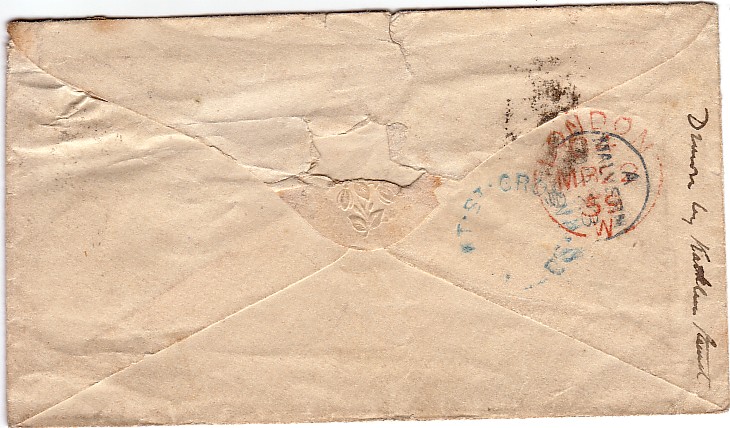 15113. Envelope from London to Malvern, March 22nd 1859:
1d star defect at top with the Artist's name on the reverse at right.

Unusual pen and ink drawing with the older woman holding an open fan
with the younger women holding the address.
Very atmospheric and of the period.
Price: £95.00





15114.
1876: Front with 1d plate 185, London to Cheltenham, March 11th 1876.
Fault at right but with two well drawn ladies ice skating:
a rare theme for pen and ink drawings.
Attractive and rare.
Price: £68.00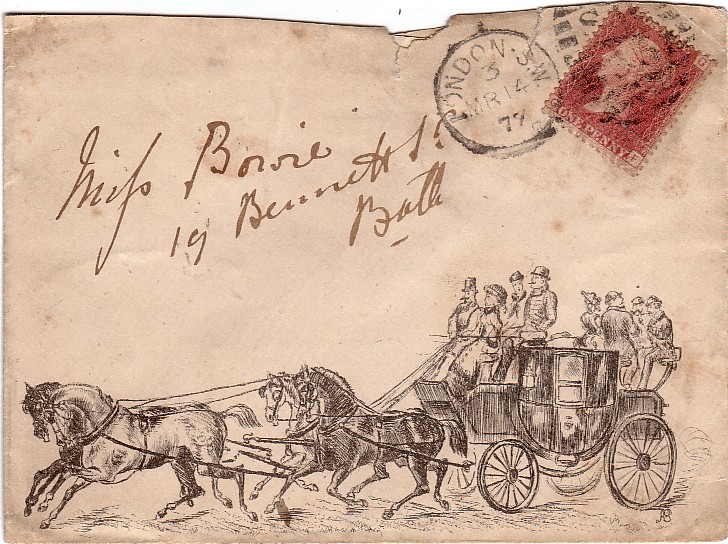 15115. 1877: Envelope, roughly opened envelope at the top, London to bath, March 12th 1877.

Very fine line engraved printing of a coach and horses of the period. Attractive and scarce.
Price:£42.00 SOLD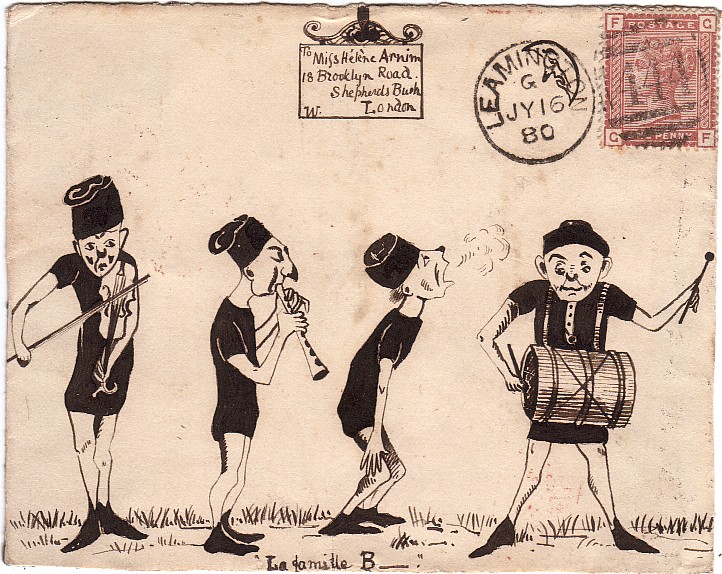 15116.
1880: Front, superb pen and ink drawing, Leamington to Shepherds Bush, London July 16th 1880.

Unusual design with four leprechaun-like musicians underneath the moon, La Famille B.
Attractive and rare.
Price: £120.00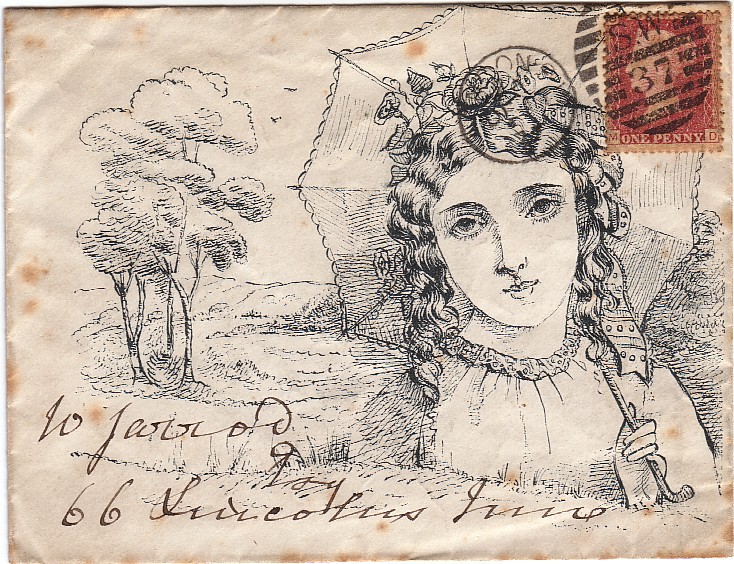 15034. 1877: Envelope with a charming printed line engraving
of a young lady with a parasol in a country scene.

1d plate 189 tied by a London duplex, December 17th 1877, used within London:
possibly sent as an alternative to a Christmas card?

There are a few small age spots mainly near the perimeter
and far fainter than the scan suggests.

A most attractive item and only the second such example we have seen:
the last was many years ago.
Price: £185.00 SOLD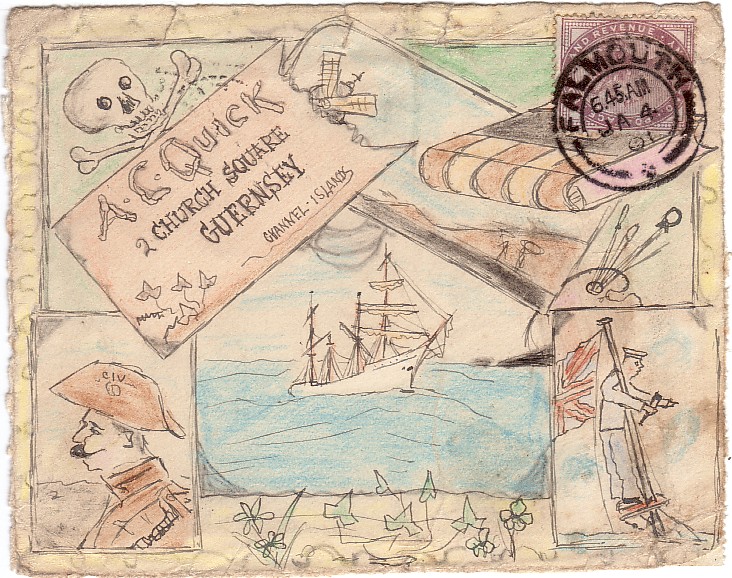 15035. 1901: Front to Guernsey, 1d lilac tied Falmouth cds, January 4th 1901.

Rather naively drawn but attractive and coloured with naval and sailing images.
Unusual.
Price: £38.00 SOLD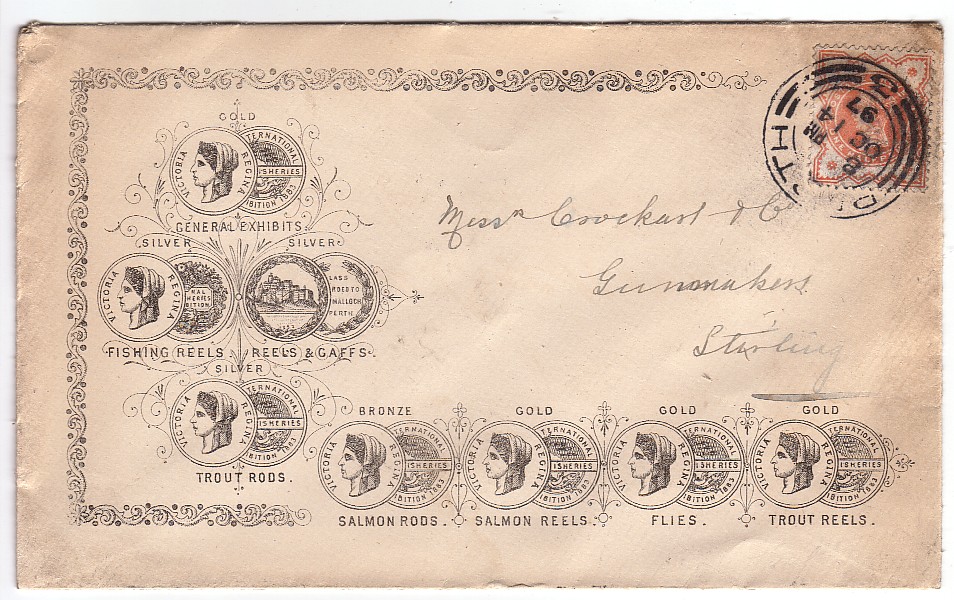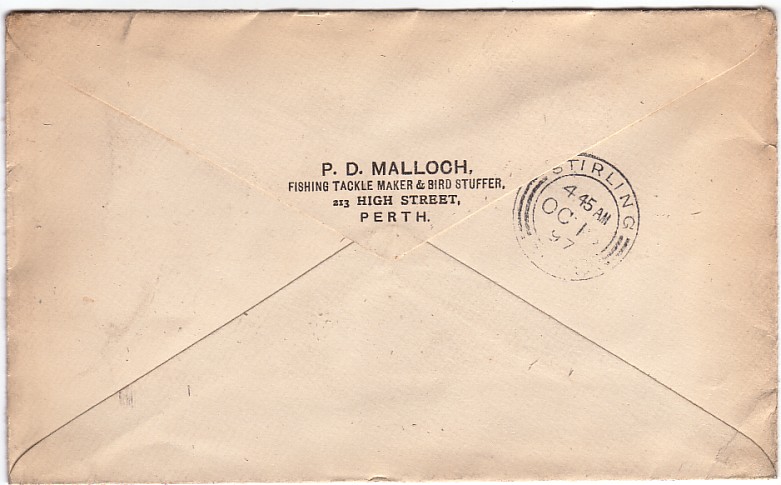 15119.
1897: Privately printed advertising envelope by D MALLOCH,
'Fishing Tackle Maker and Bird Stuffer' of Perth

depicting various Exhibition medals won for their Fishing Reels and Flies.
SG197 1/2d vermilion, tied by Perth cds for December 14th 1897.
Only the second example we have seen of this

attractive envelope – the last was in 2004!
Price: £125.00
NB: Some age browning at the right edge though much fainter than the scan suggests.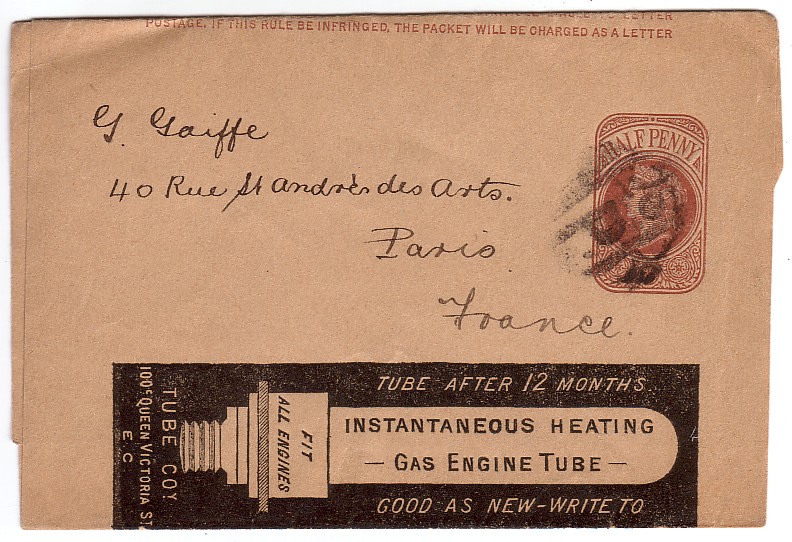 15120. Half Penny wrapper for newspapers and other printed circulars,
London to Paris, with NPB cancellation in very fine condition.

Superb and rare printed advert on the front
for the 'Instantaneous Heating – Gas Engine Tube' from the Tube Co,

100 Queen Victoria St, London E C.
Price: £90.00

1122. 1892: Two superb hand drawn fronts
with 1d lilacs, to the same addressee in Deal, one with an Alice in Wonderland character
and the other with a Jack in the Box and toy soldier.
Beautifully drawn and attractive and unusual themes.
Price: £155.00 SOLD
The following are Deraedemaeker reprints unless stated otherwise.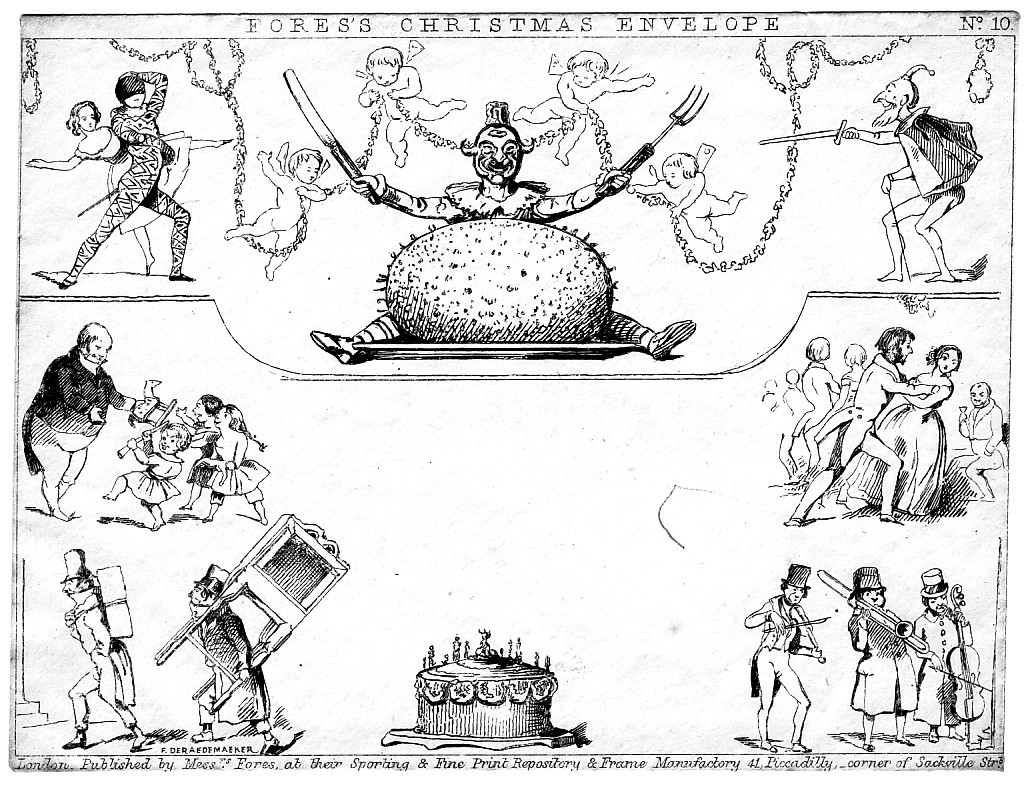 703. Fores Christmas Envelope small ink mark, fine.
Price: £52.00 SOLD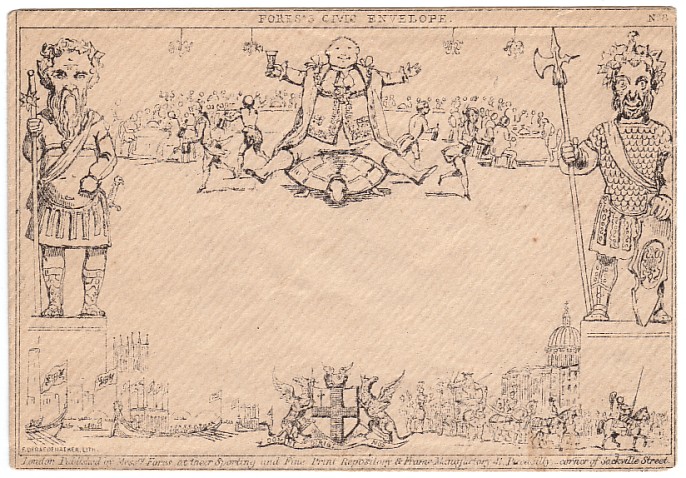 705. Fores Civic Envelope fine.
Price: £62.00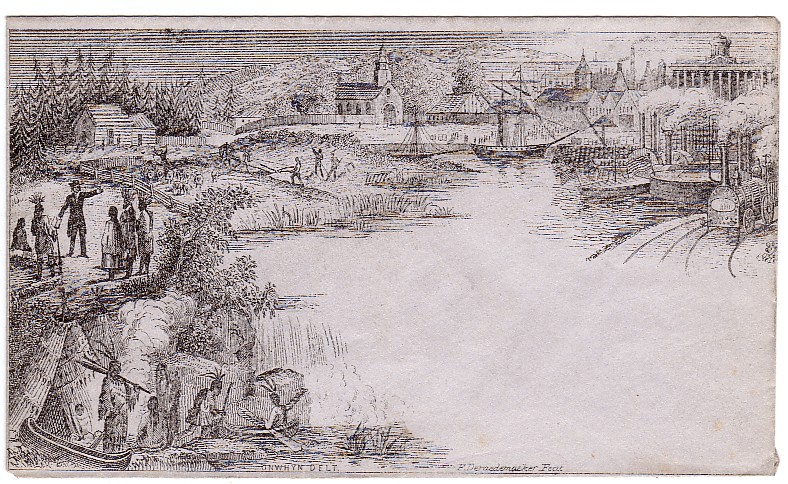 706. The Civilization of America Onwhyn fine/very fine.
Price: £60.00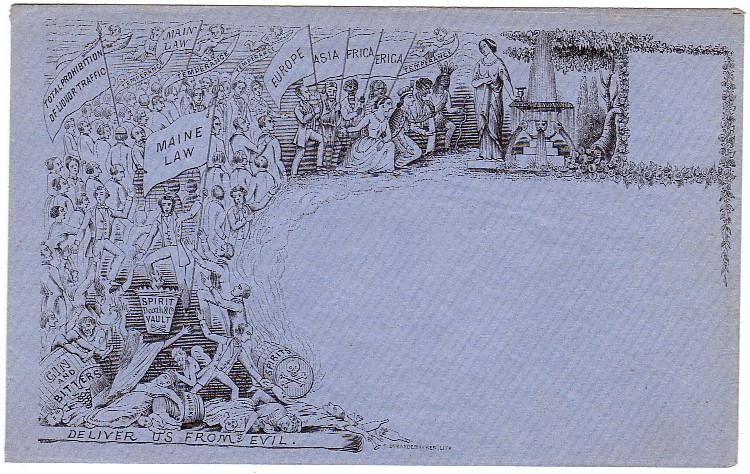 707. The Maine Law Intemperance Envelope very fine.
Price: £63.00 SOLD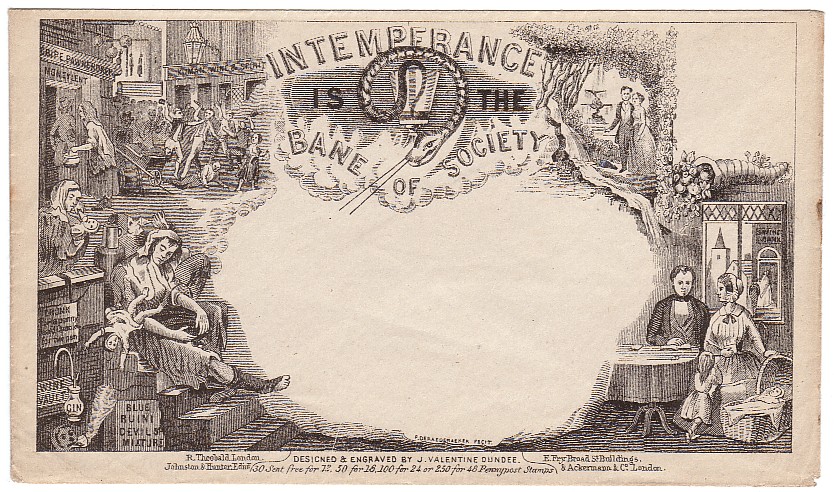 708. Intemperance is the Bane of Society, cream paper, fine.
Price: £57.00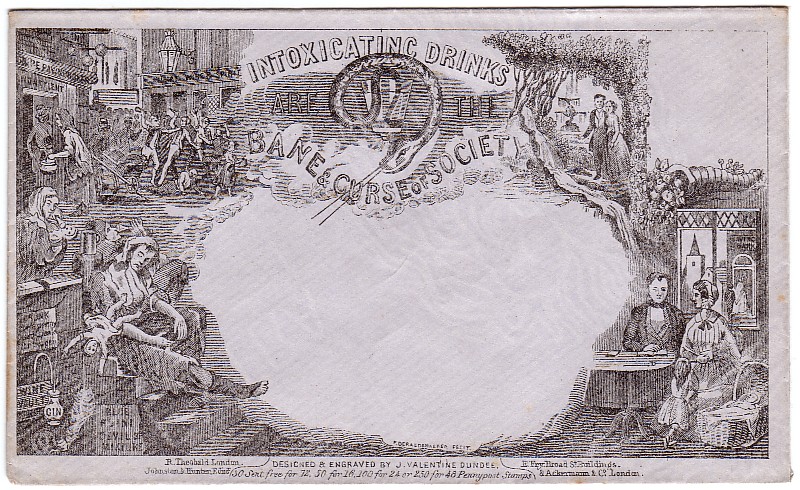 709. Intemperance is the Bane of Society, grey laid paper, very fine.
Price: £63.00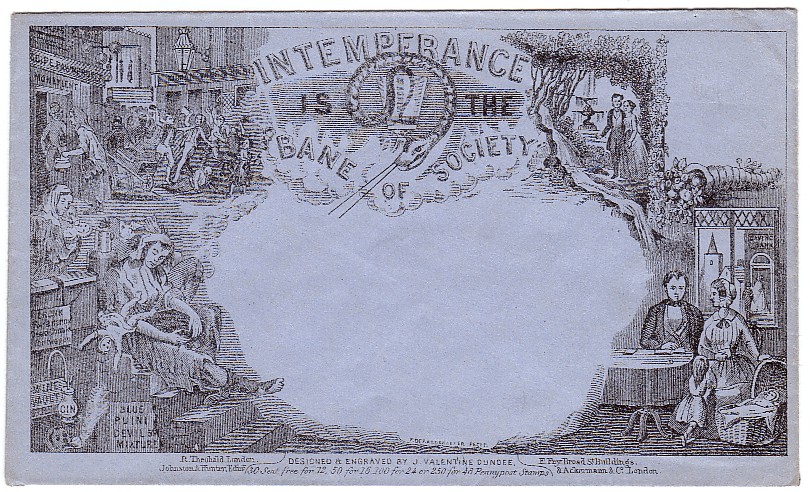 710. Intemperance is the Bane of Society, blue wove paper, fine.
Price: £60.00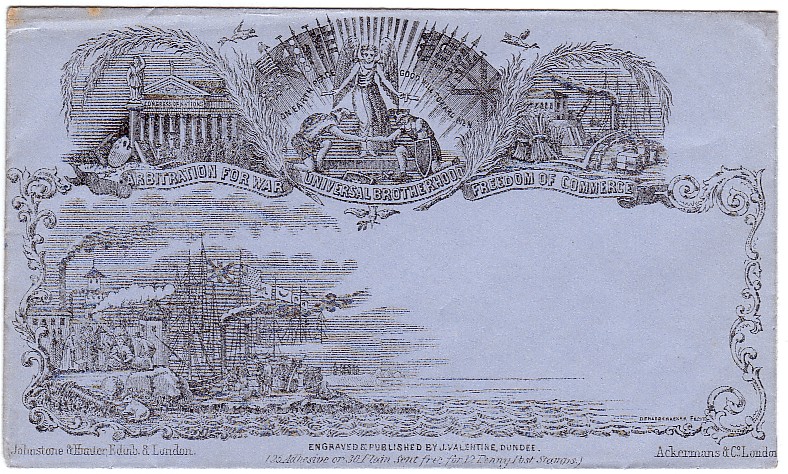 711. Valentines Universal Brotherhood with correct spelling of 'Arbitration'
a few age spots but fine for this.
Price: £55.00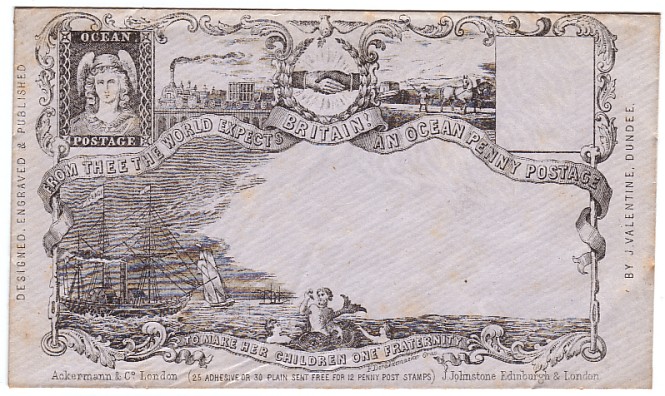 712. Ocean Penny Post on grey wove paper, a few wrinkles and age marks but fine for this.
Price: £55.00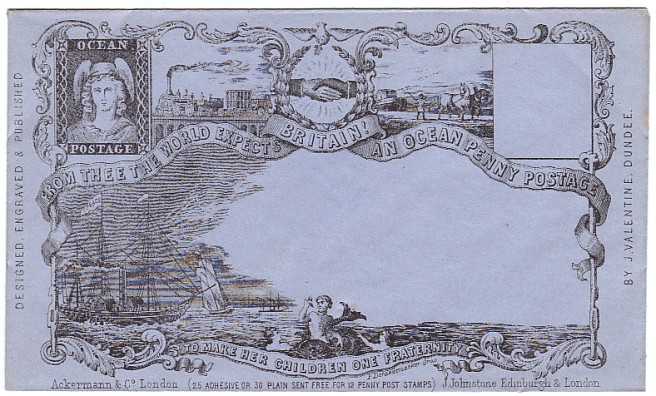 713. Ocean Penny Post on azure paper, fine/very fine.
Price: £68.00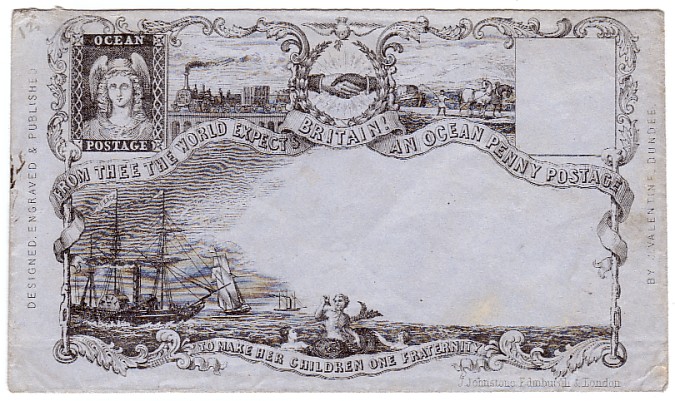 714. Ocean Penny Post ORIGINAL by Johnstone, Edinburgh. State 3, small faults, scarce.
Price: £80.00 SOLD
24. Complete mint set of Six Deraedemaeker reprints of Southgate's Pictorial Envelopes,
numbers 1-6, fine/very fine condition for these, all on white paper, couple with slight foxing.
Price: £485.00 SOLD
Home Page Terms of Business Contact Us Links
K & C Philatelics
Tel: 01245-223120;
E-mail: kcphil@usa.net