K & C PHILATELICS
The GB Specialists:
Queen Victoria & Postal History
Welcome to our website and hope you enjoy your visit.
Your comments are always welcome.
Website updated each week.
We specialise in the stamps and postal history of Great Britain covering
the pre-stamp era and the reign of Queen Victoria (1840-1901).
Our service, whether you are a newcomer to this fascinating
period of our social and philatelic history,
a Specialist or an Exhibitor, is based on 40 years experience
as Specialist Dealers handling rare and unique items.
Our emphasis has always been on quality and rarity.
Having helped to build many fine Collections, which is ongoing today,
we are always pleased to give advice on developing a Collection.
Our stock contains quality items:
the unusual; the exceptional and the unique.
If you have for sale an individual item, or a Collection, from the
pre-stamp and/or the Victorian period, please make contact
as we are always interested in purchasing such material.
We look forward to receiving your WANTS LIST.
Items can be reserved by phone or E-mail.
Please see our Terms of Business.
New additions in all Sections including:
Pre-stamp and Stampless:
Early Guernsey to Southampton Ship Letter;
Uniform 4d Post letter sent abroad;
Sunday usages in Uniform 4d Post Period;
Handstruck '4's;
First Day of the Uniform1d Post;
Manchester Sunday May 17th 1840.
Surface Printed and 1d Lilacs:
varieties;
trial cancellations;
usages in the Channel Islands;
wide range of covers;
rare varieties on cover.
Scottish, Irish and Welsh:
Edinburgh Paid 6d Extra on cover;
Dumfries Distinctive Cross on cover;
Dublin Additional 1/2d's;
Experimental Duplexes including rare varieties;
Last Day of usage Edinburgh Cross;
Irish Crosses on Cover.
1d Blacks:
on cover with Distinctive Crosses;
Varieties;
Inverted watermarks;
turned letter with a 1d black both ways;
Ruby cross on cover.
Line Engraved, 1d Reds and 2d Blues:
Range of missperfs on 1d reds and 2d blues;
1d Reds from Black Plates on cover;
2d blue Paisley Cross New Years Day;
covers with LATE USAGES of the 1d Black,
2d Blues with Re entries;
Disinctive Crosses on 1d Reds;
Used blocks of 1d reds.
Hand Drawn and Pictorial Envelopes:
Wide range of unusual and attractive examples.
The following are a few examples from various Sections of the website.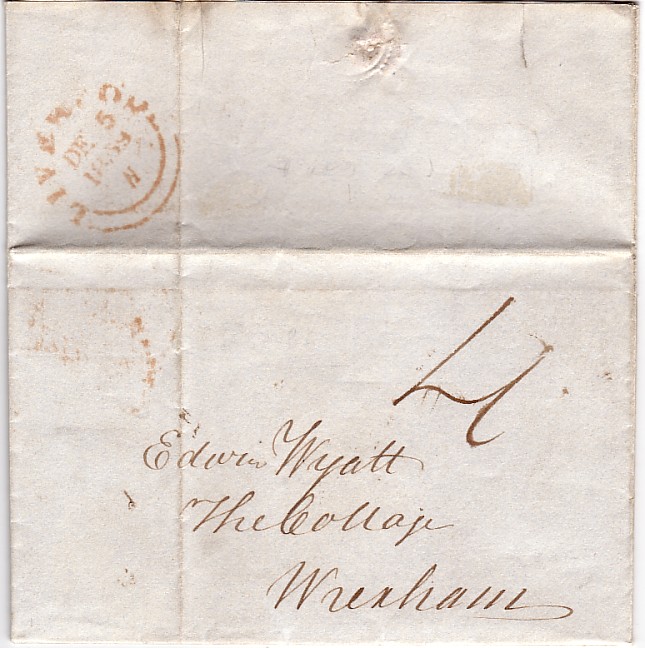 151676. FIRST DAY Uniform 4d Post: Stampless Section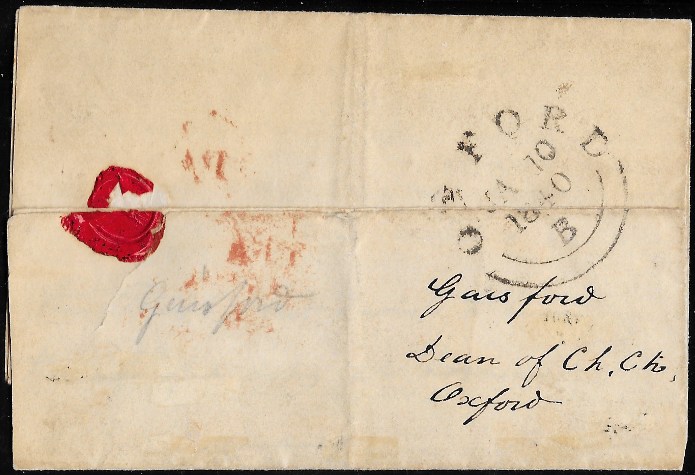 151288. FIRST DAY Uniform 1d Post: Pre-stamp Section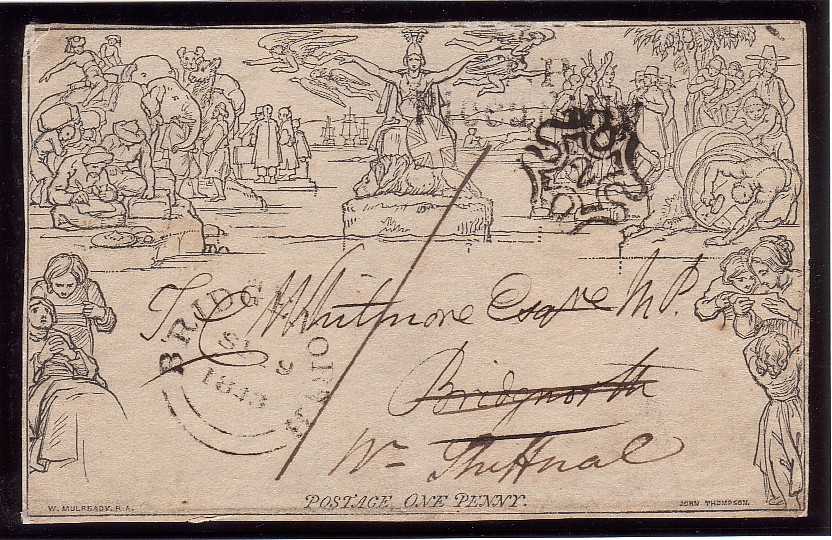 15136. Number 2 in Cross on a front: Mulready Section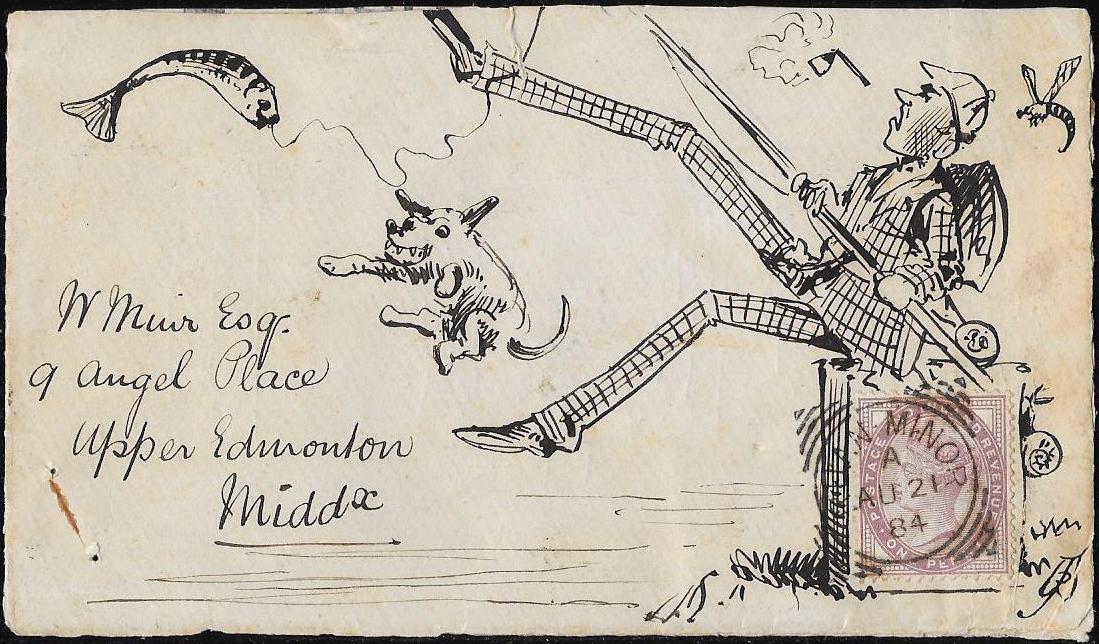 151783. Envelope, illustrated BOTH SIDES. Hand Drawn and Pictorial items Section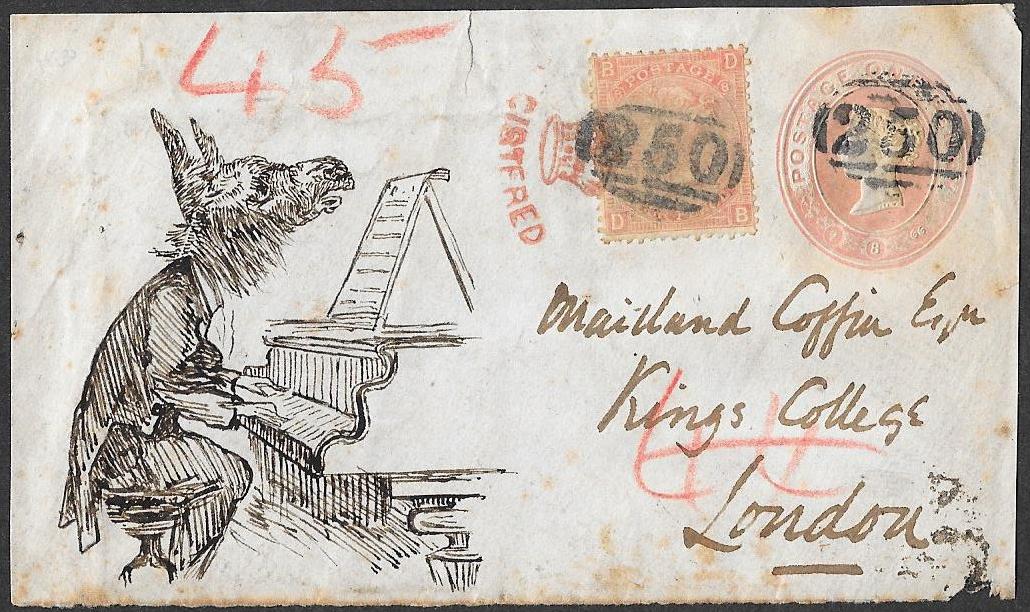 151998. Registered Front: Hand Drawn and Pictorial items Section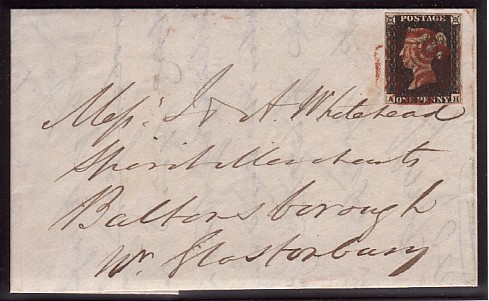 151567. Bristol, SUNDAY MAY 31st 1840, Plate 3: 1d Black Section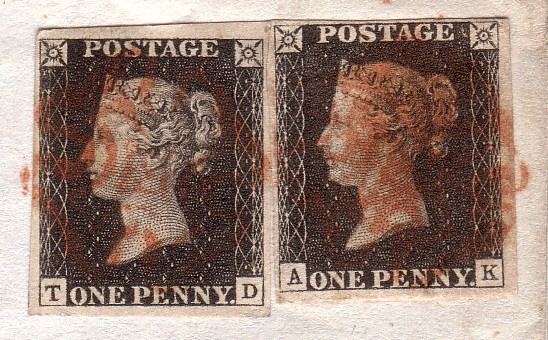 15143. Plates 8 and 6 wrapper Belfast to Armagh: 1d Black Section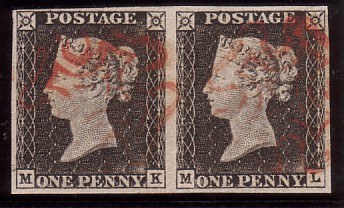 151206. Superb Plate 1a pair: 1d Black Section.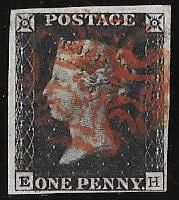 151851. Plate 1b INVERTED Watermark: Watermark Varieties Section.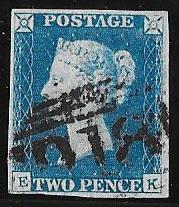 151547. Plate 1 WORCESTER numeral: 1840 2d Blue Section.
15142. Plate 1 Steel Blue Greenock Cross: 1840 2d Blue Section
151882. 1d plate 63 and 2d plate 3 ON COVER: Line Engraved Section.
151656. 2d Plate 3 Envelope Dublin to Australia: Line Engraved Section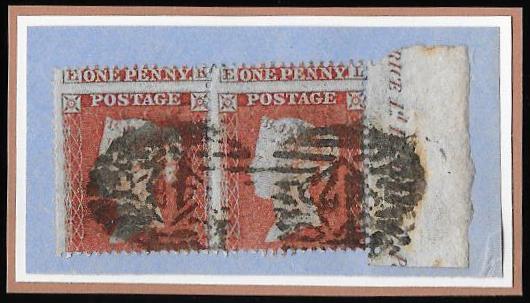 151905. 1d SG17: Line Engraved Section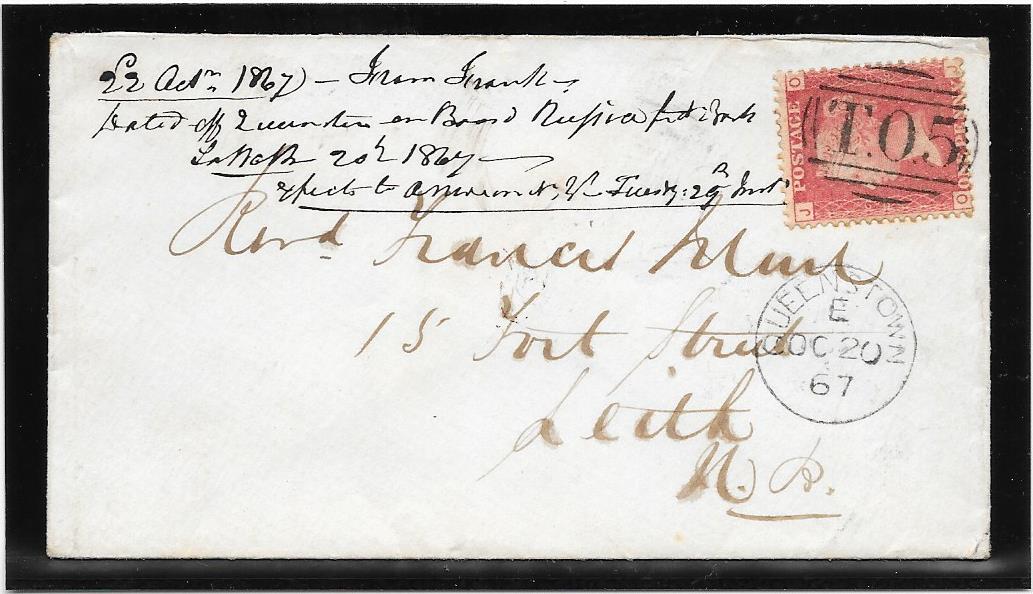 151487. T.0.5 on letter written on board Cunarder 'RUSSIA': Line Engraved Section

151528. Very early usage of Boston Trial: Early Machines Section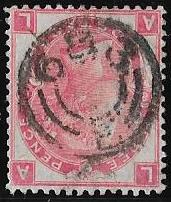 152018. 3d Plate 6 SALISBURY Trial: Early Machines Section
151240. 1d SG16b: ARCHER PERFORATION with RPS Cert - Scottish and Line-Engraved Sections.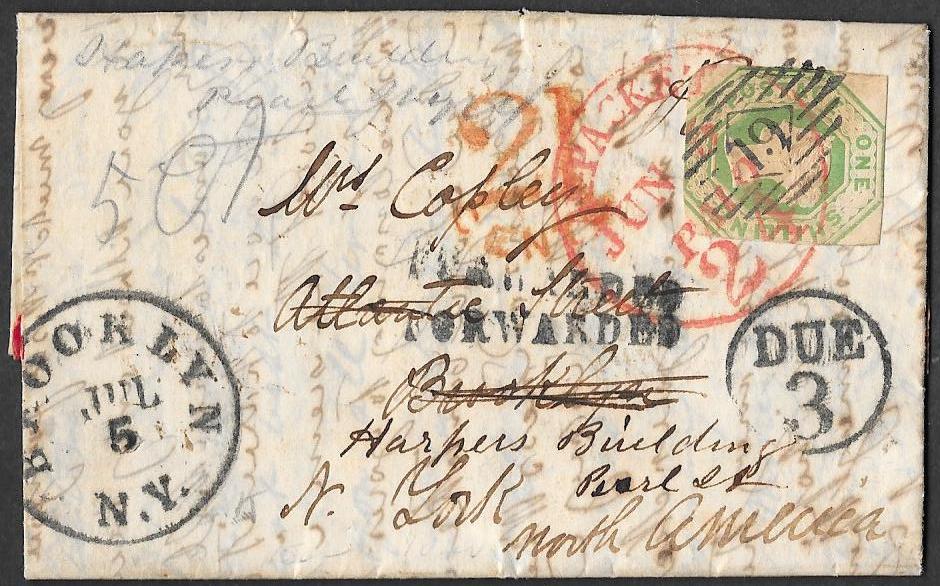 151608. 1/- SG55 on entire to Harpers Building New York: Embossed Section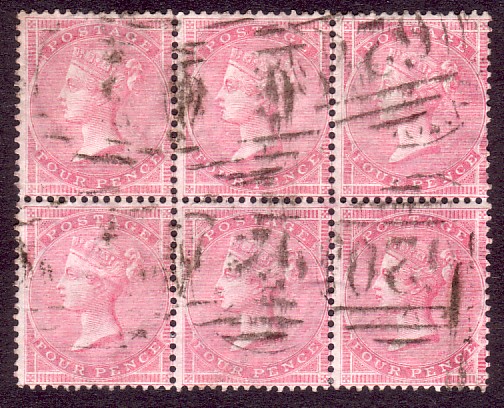 152032. 4d SG66a with RPS Cert: Surface Printed Section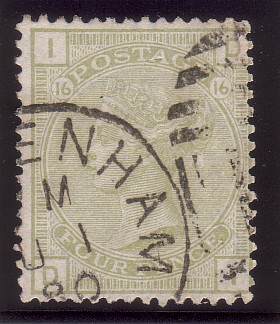 WM10. 4d Plate 16 INVERTED watermark: Watermark Varieties Section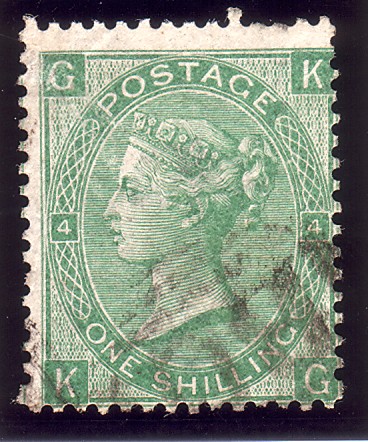 5100. 1/- SG117, Plate 4, Inverted Watermark: Watermark Varieties Section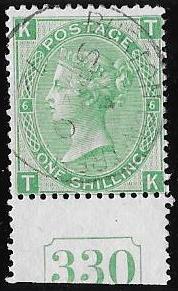 151856. 1/- SG115 Plate 6: Surface Printed Section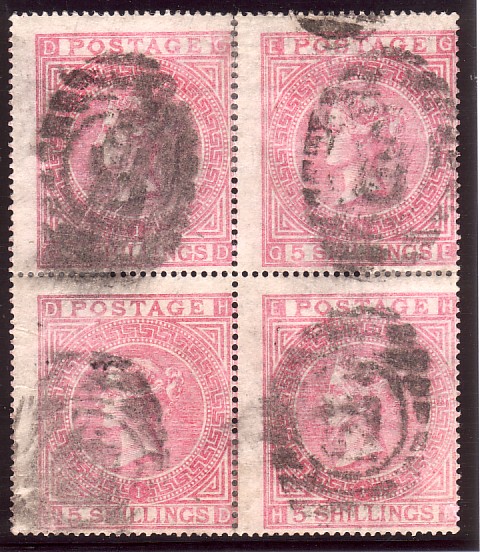 151670. 5/- SG127 Plate 1: Surface Printed Section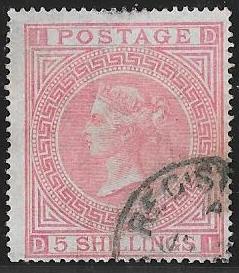 151849. 5/- Plate 2 SG127: Surface Printed Section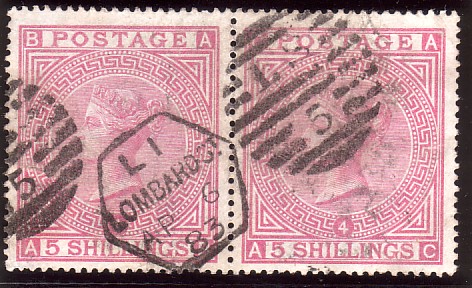 151936. 5/- SG130 Plate 4: Surface Printed Section.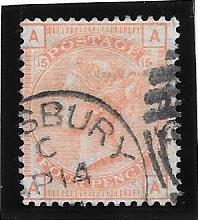 151464. 4d SG152 variety LARGE 5 in plate number: Surface Printed Section.

152030. 6d Plate 12 ABNORMAL on cover with RPS Cert: Surface Printed Section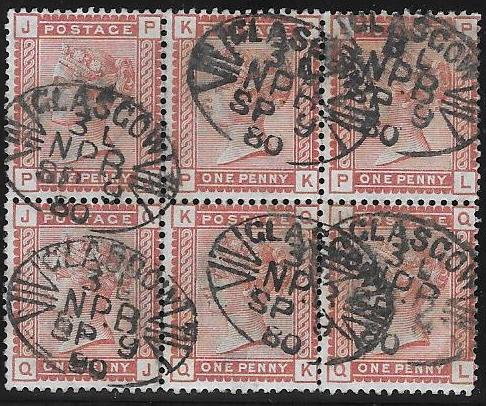 151552. 1d SG166: Surface Printed Section
151720. 1d lilac Die 1: Surface Printed Section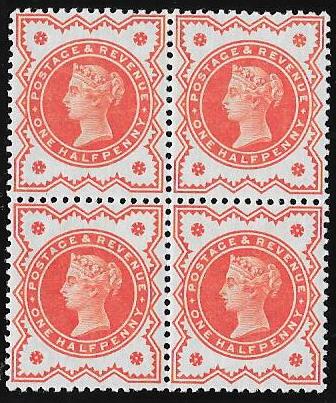 151648. SG197 INVERTED Watermark: Jubilee Section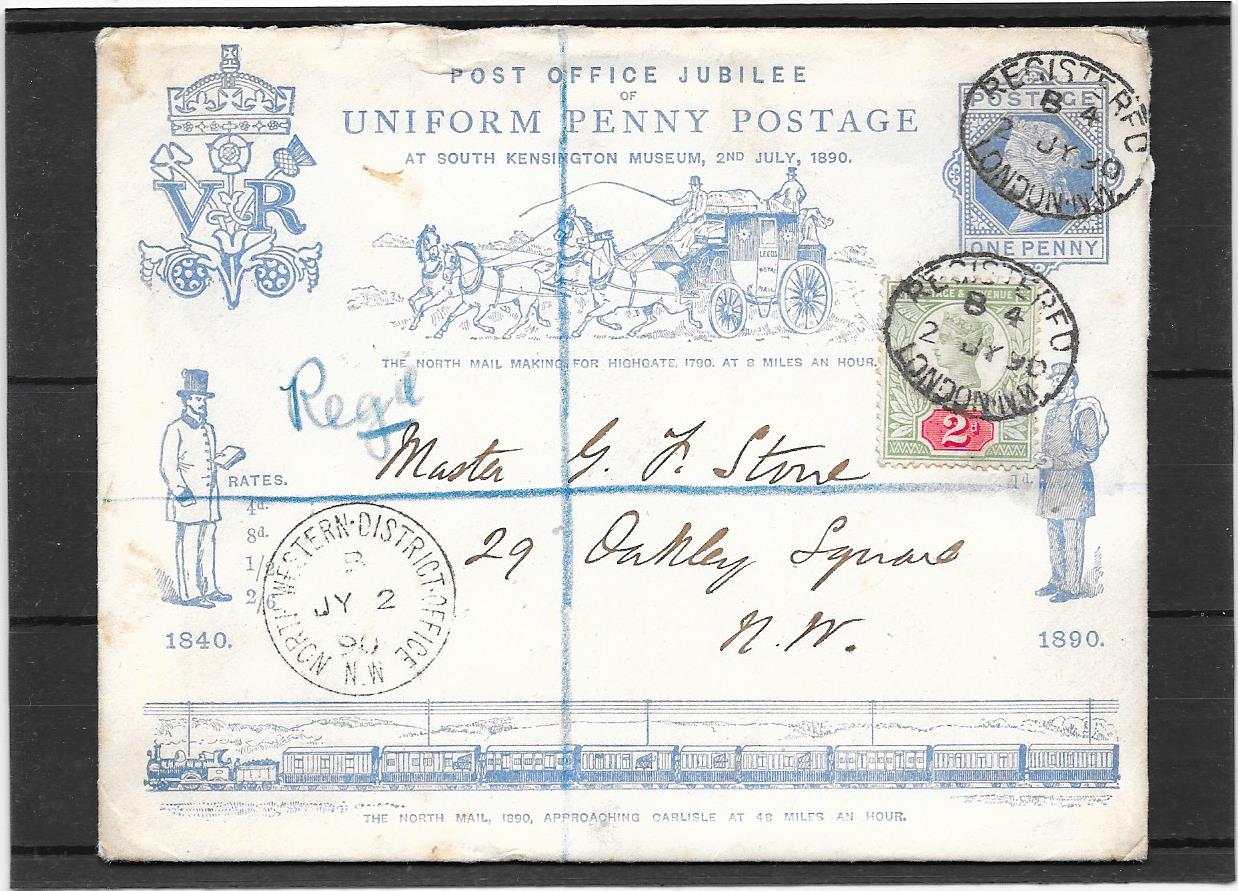 151485. Registered FIRST DAY of Issue: 1890 Penny Post Jubilee Section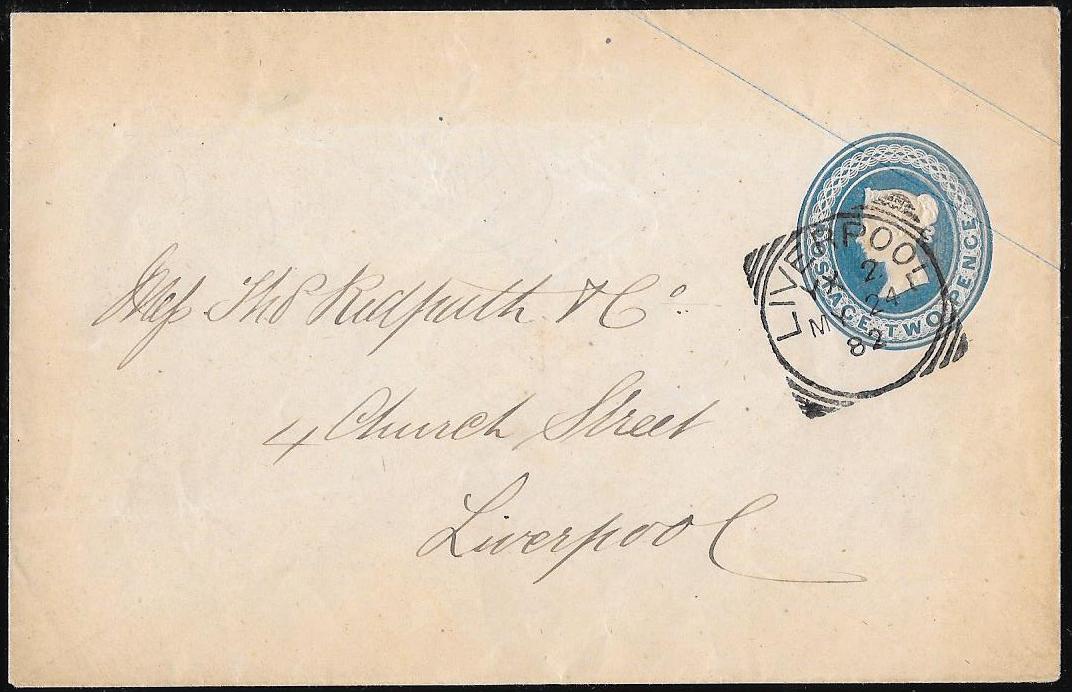 151653. 1841 2d Blue Envelope: Stationery Section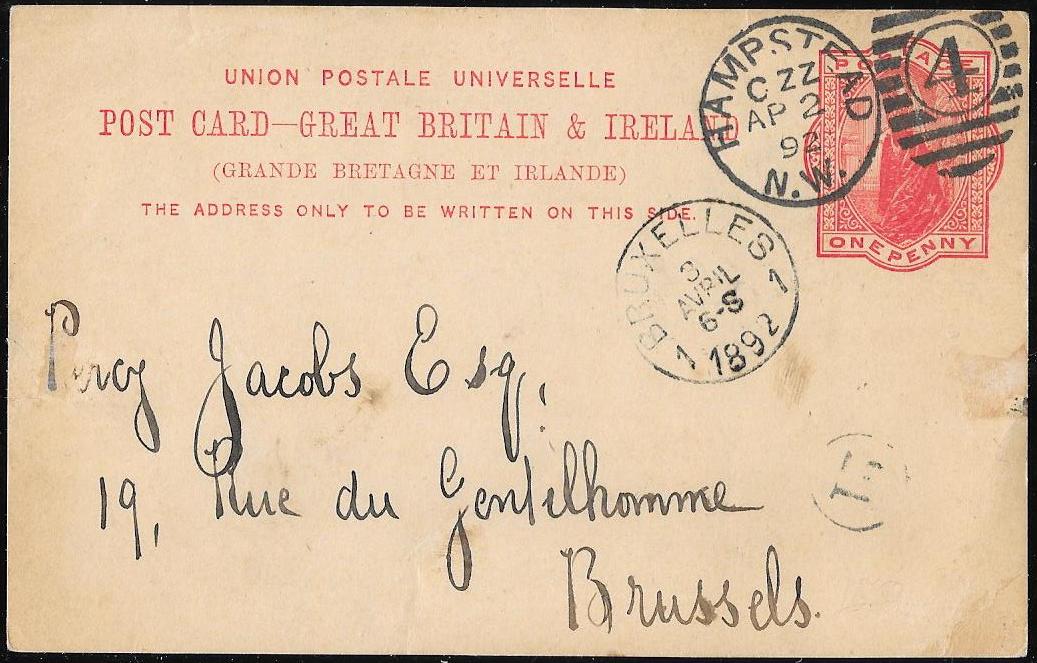 151751. UPU Card Second Day of Usage: Stationery Section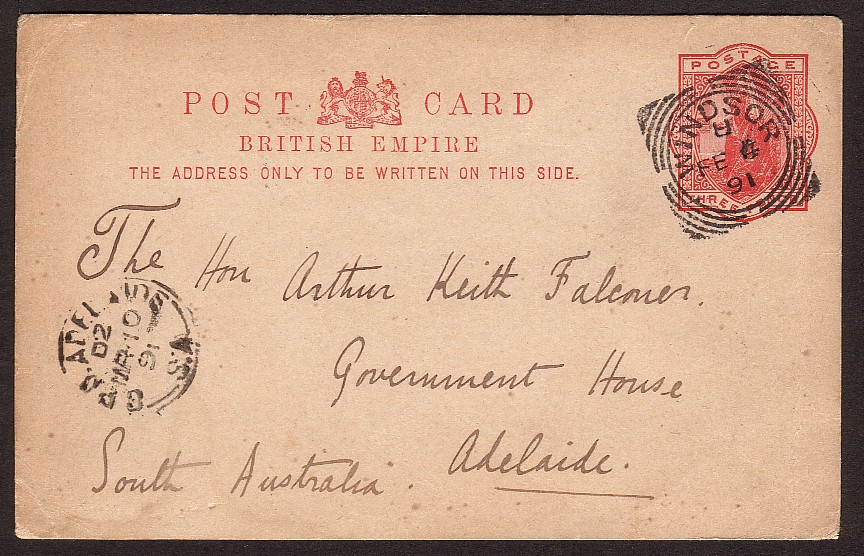 151675. 3d Empire Card used to Australia - Stationery Section
To see a selection from our stock click on the links below.
SECTIONS.
Early Machine Cancellations and Trials
Postal History of Scotland, Ireland and Wales
The 1d and 2d Mulready
Hand Drawn & Pictorial Envelopes
1d Reds, 2d Blues and other Line Engraved
Surface Printed, High Values, Lilac and Greens and 1d Lilac
Stationery, Registered Envelopes and Printed Adverts.
Terms of Business Contact Us Links
We accept credit card payments through PayPal.
Just follow the links below and, when asked,
use our Email address kcphil@usa.net to make payments.
K & C Philatelics
PO Box 5003 Danbury Essex UK CM3 4JU
Tel: 01245-223120 E-mail: kcphil@usa.net