POSTAL HISTORY OF SCOTLAND, IRELAND and WALES.

This is a section devoted to the Postal History of Scotland, Wales and Ireland
from pre-stamp to the end of Victoria's reign and includes stamped covers and stamps.

The selection of items is a representation only of our current stock so your Wants List is welcomed.
LIMERICK Cross: very rare usage on a Stationery Envelope.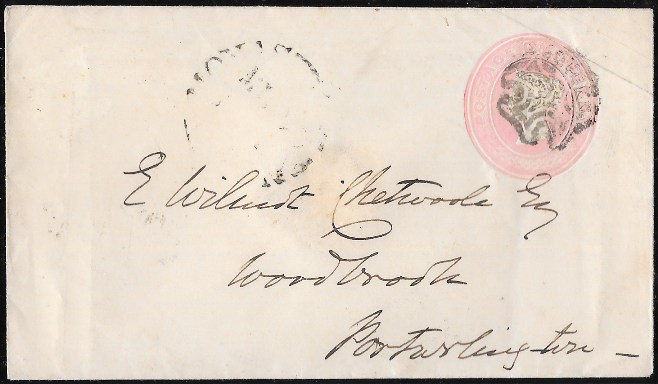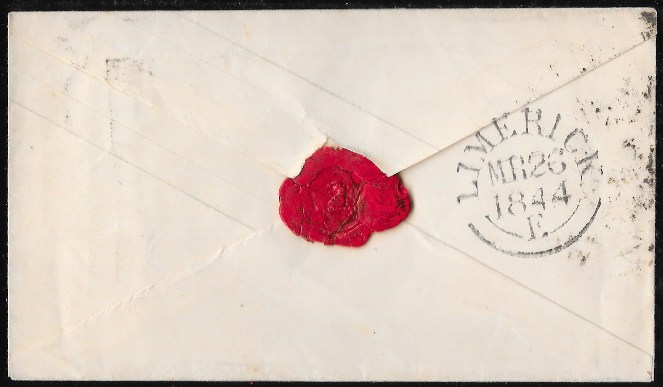 152306. A fine/very fine 1d pink stationery envelope from LIMERICK to Woodbrook,
cancelled by a fine strike of the Limerick cross with a superb Limerick date stamp for March 26th 1844 on reverse.
In 'The Maltese Cross Cancellations of GB and Ireland', Volume 1 page 157,
the examples listed do NOT include one used on a stationery envelope and only one example, on a 1d red, is recorded for 1844.
Gibbons in the latest Edition, 2011, of QV Volume 1, prices this rare cross on a 1d red cover at £1,900.
Usage on a stationery envelope is significantly rarer.
An Exhibition item.
Price: £475.00
NB: we cannot recall seeing previously this cross used on a stationery envelope.
Envelope to TOBAGO: very rare usage of 1d red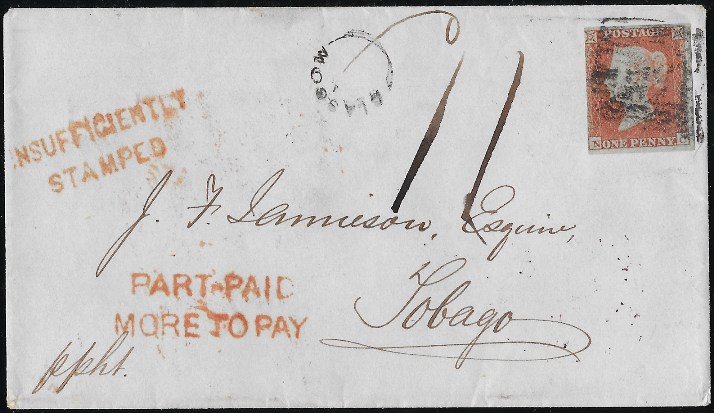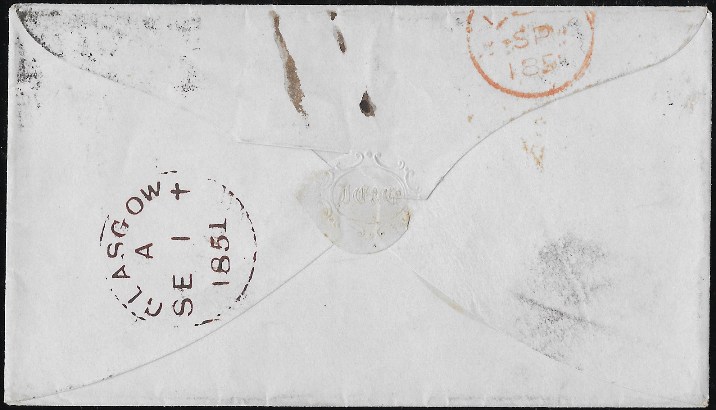 152297. 1d red, 'NC', 3-plus margins, tied by a smudged numeral '159' of GLASGOW to a very clean and uncreased envelope to TOBAGO (West Indies).
On the front is a good strike of the very scarce and miniature single-arc stamp with a letter 'L', McKay figure 422 in 'The Postal History of Glasgow'.
This stamp was used to denote a late posting and as usual here it is used in conjunction with a late fee paid by a 1d red.
On the front are superb/very fine strikes of 'Insufficiently Stamped' and 'Part-Paid/More to Pay' both in the same shade of red: these were applied in London.
The latter of the two strikes is very scarce and Johnson in 'Unpaid and Underpaid Mail' notes that
this strike is 'rare/important enough to be included in a collection of unpaid marks'.
A m/s '11d' in black on the front indicates an underpayment and the paper seal has the initials of a Company.
A very rare destination and extremely rare bearing a 1d red: the first we have seen to Tobago.
Also, we have not previously seen this unique type of Glasgow late fee, McKay figure 422, used with a 1d red imperf going to an overseas destination.
A very rare and attractive Exhibition quality item.
Price: £880.00
NB: it is possible that the post office worker in the London Office,
who probably put on both underpayment strikes, initially applied the 'Insufficiently Stamped'
but then put on the 'Part-Paid/ More to Pay' because he thought the 1d was paying part of the postage fee to Tobago,
not realising the significance of the tiny Glasgow late fee strike.
The colour of the strikes suggests the same ink pad was used for both.
Mixed perf types and shades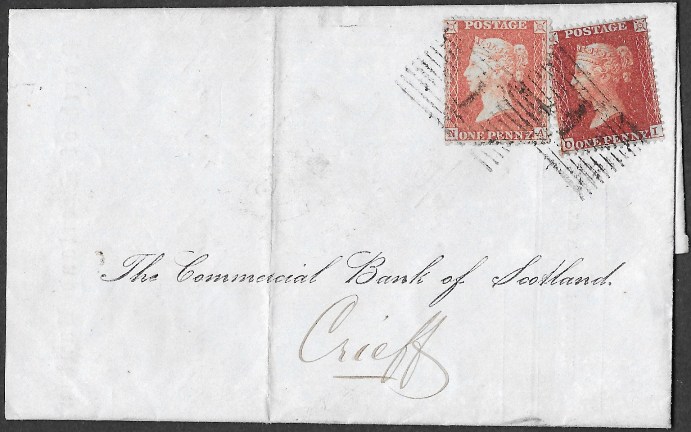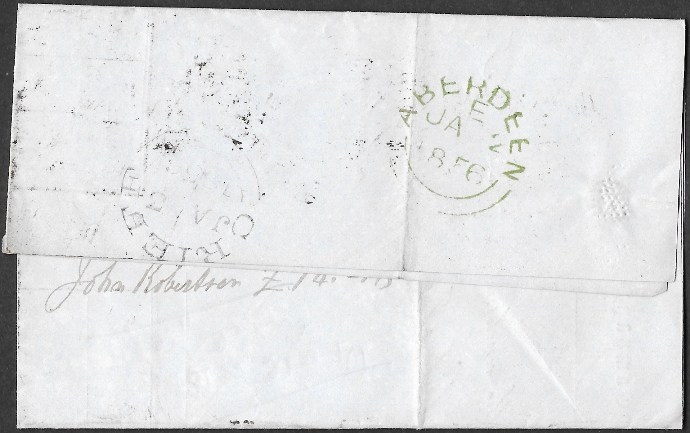 152295. 1d SG26 perf 14, 'NA', ragged perfs at the bottom, and a very fine 1d SG26 perf 16, 'OI',
both tied to a North of Scotland Banking Company Scottish letter by the '1' in bars of ABERDEEN.
The 1d SG26 perf 16 is in the scarcer very deep brown shade, SG Spec C5(2) and
the 1d SG26 in a shade close to, or at, the rare orange-brown, Spec C6(5)
There is an Aberdeen date stamp in green on the reverse top flap for January 2nd 1856:
just a few days before the introduction of the Experimental Aberdeen duplex on January 7th 1856,
and a Crieff receiving date stamp for the following day.
A rare and attractive item which would make a superb Exhibition pairing with Item 152296.
Price: £185.00
NB: SG26 perf 16 priced by Gibbons on cover, in the cheapest shade, at £240 and the SG 26 perf 14 at £75.
As both date stamps are on the top flap, they display well when raised.
Mixed perfs and cancellation types on turned envelope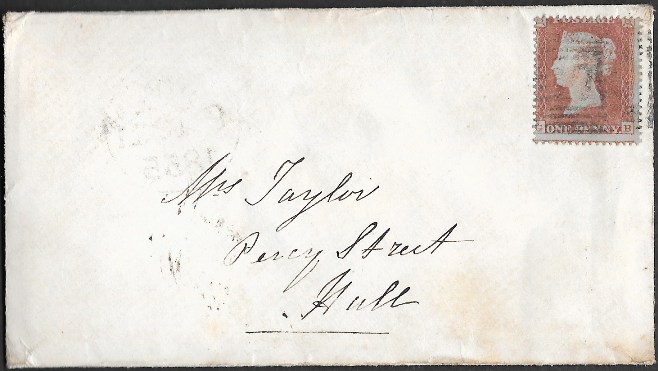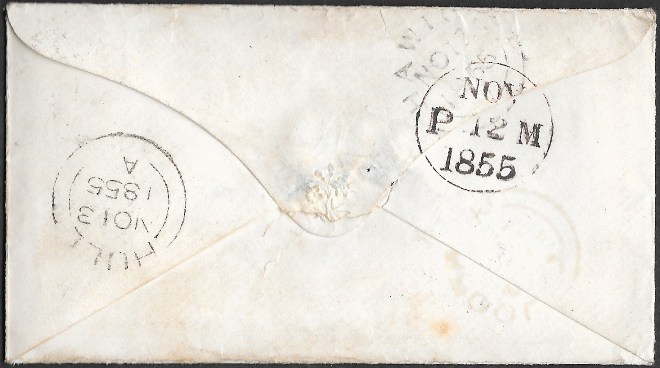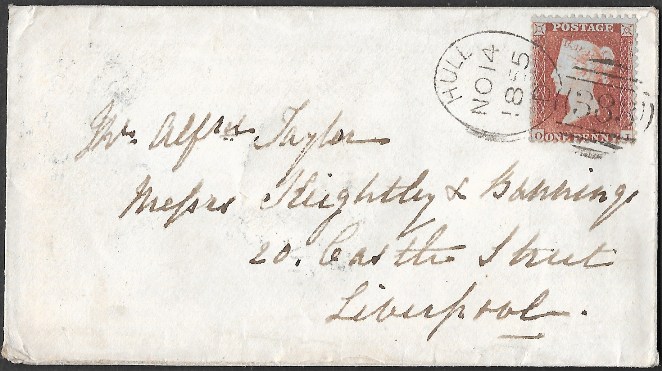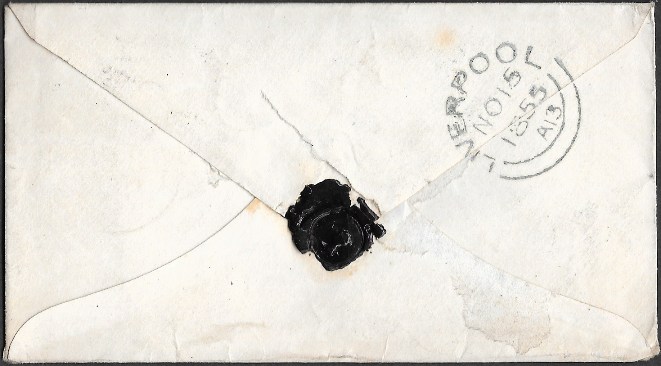 152296. 1d fine SG26 perf 16, 'GB',Spec C5(1) tied by a partial strike of the HAWICK '174' numeral, on an envelope to Hull, November 12th 1855.
Soon after the envelope was received on November 13th 1855, it was turned inside out and addressed to LIVERPOOL.
A fine 1d perf 14, 'OJ', Spec C6(1) added which was cancelled by a fine/very fine HULL spoon, Type D for November 14th 1855.
A very rare combination of perf types and cancellations.
Price: £125.00
NB: this item would make a superb Exhibition pairing with item 152295.
1d SG26 Spec C5 priced by Gibbons on cover at £240 and Spec C6 at £75 with a numeral cancellation.
Observance of the Lord's Day and the rare Edinburgh UPP 2d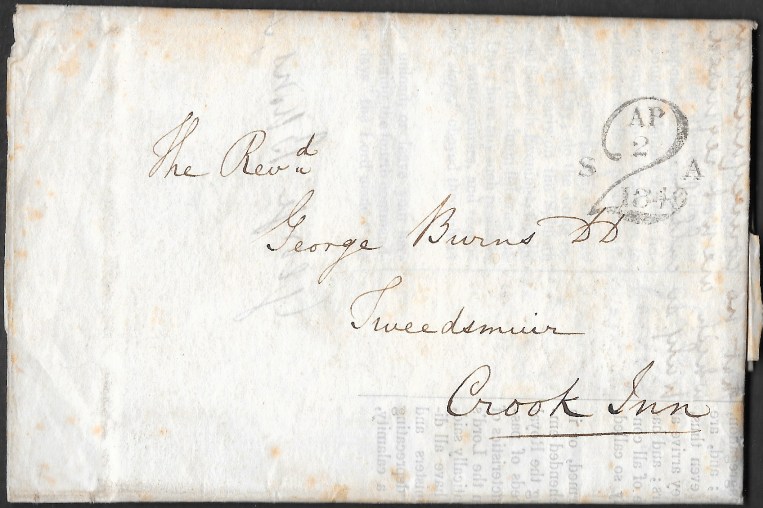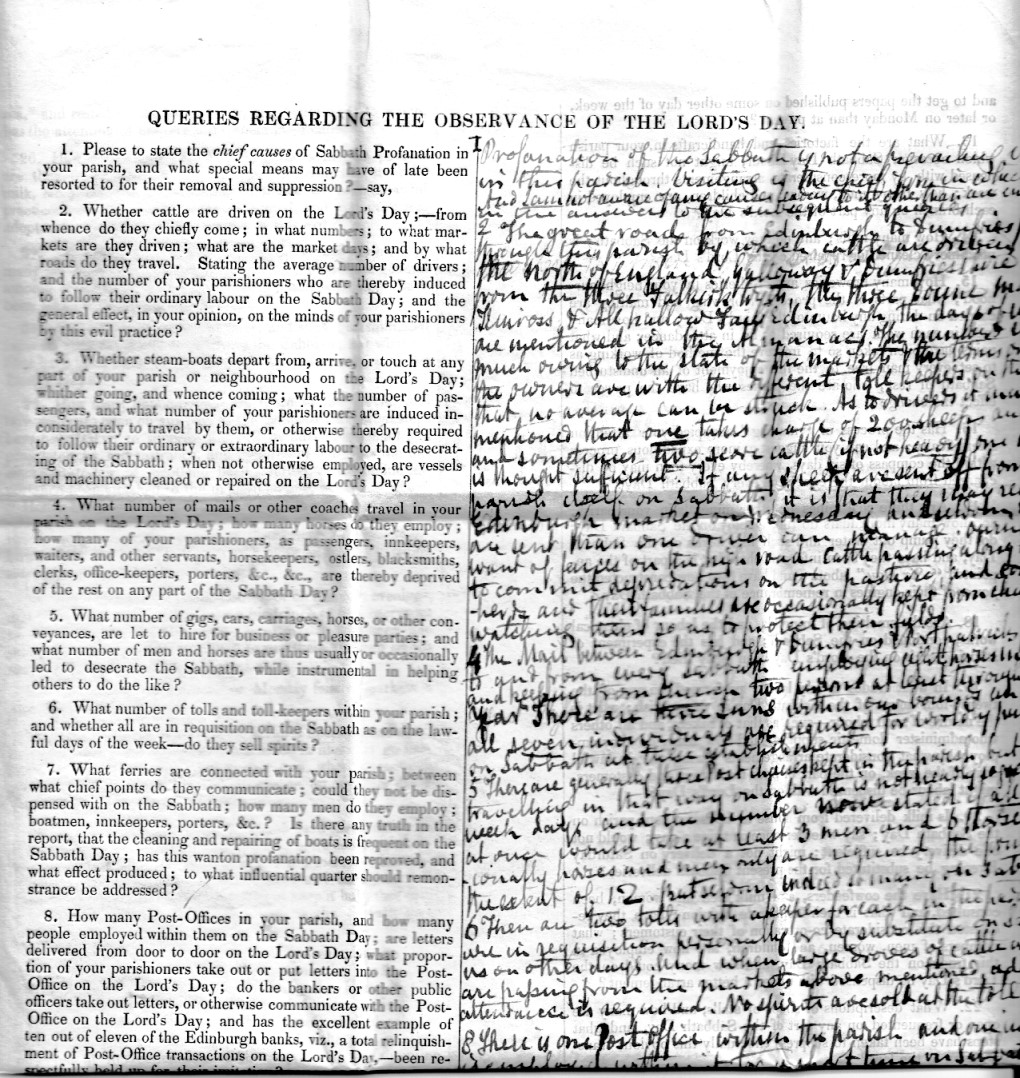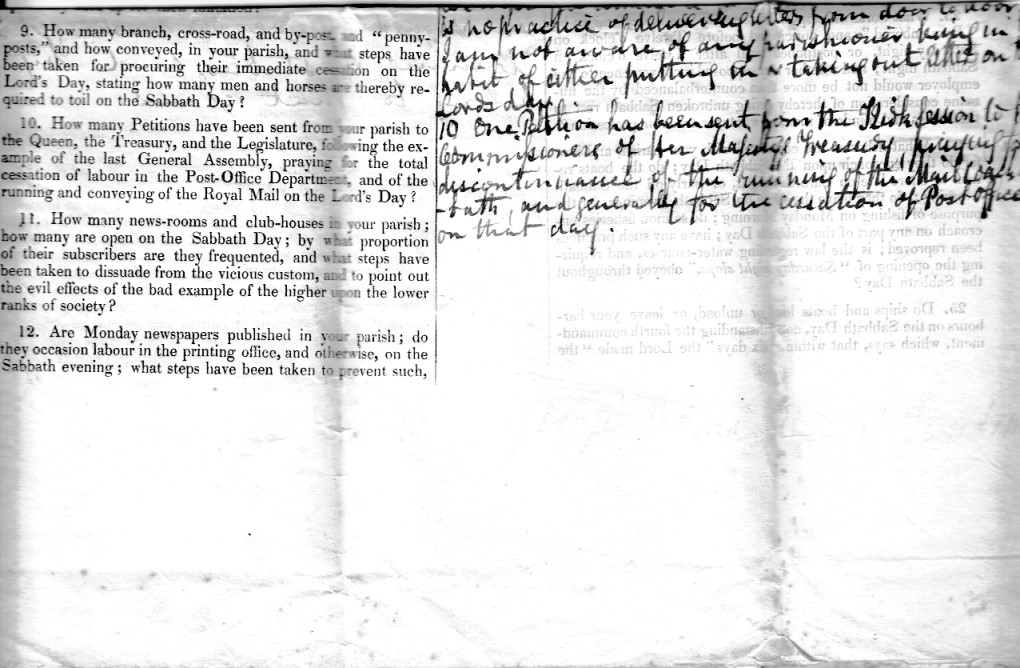 152288.
This item is from a Display and the description was as follows:

The small selection of scanned pages give a flavour of the questions asked and the written replies to
Questions 1-12 from a total of 35.
The black marks are caused by the scanner and are not on the pages.
The description could be expanded to include: steamers, ferries, public houses, funerals etc etc.
A truly remarkable document that gives a deep insight to the demands and influence of the Church in Scotland in 1840.
This rare document is made rarer, possibly unique, by it being sent postage unpaid and receiv